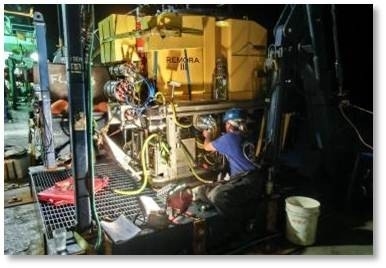 An energy firm has cut jobs at its Aberdeen base.
Lockheed Martin confirmed 27 posts have been made redundant.
The US-led firm acquired its city base as part of a deal to take over Amor Group two years ago.
A company spokesman said "the majority" of the 27 job losses were in the Aberdeen office.
The news was delivered to staff at the firm's energy operations office, based at Johnstone House on Rose Street.
A spokesman for Lockheed Martin said: "Our decision to reduce our energy sector workforce in the UK by approximately 27 roles across several sites was a necessary response to changing industry dynamics and efforts to improve the business' competitiveness.
"We are actively seeking to minimise the impact on our workforce and have done so already by not back-filling vacant positions and reviewing contractor requirements first, before taking steps to reduce head count."
The firm had been in a period of consultation over cuts since the summer.
The Aberdeen base supports some of the biggest names in the energy industry.
The move came less than a month after the business announced plans for 327 jobs at its new office in Glasgow.
The posts were confirmed at the opening of the facility in the Skypark building in Finnieston in September.
Speaking at the opening, executive vice president for Lockheed Martin Information Systems & Global Solutions Sondra Barbour said: "Given the scale of local ICT innovation, flagship universities and science, technology, engineering and maths initiatives, we see Glasgow and central Scotland as the ideal location to increase our UK presence."
Lockheed Martin also has a base in Edinburgh and employs about 3,000 people at 21 sites across the UK.
The US-based technology, security and aerospace company snapped up Amor, which had its headquarters in Glasgow, for an undisclosed sum in 2013.
At the time, company chiefs at Lockheed Martin said the move would allow it to extend and strengthen its existing capabilities within the UK public sector.
Its UK chief executive Stephen Ball had said that the Amor Group's Aberdeen-based energy arm was a "natural fit" for its operations.
Recommended for you

SSE touts £1bn economic boom from Seagreen wind construction