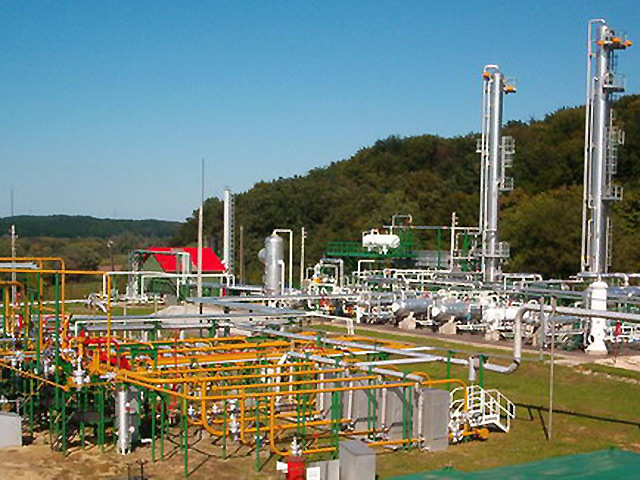 MOL Group's Brian Glover said the company does not see any "great future" for itself in Central Africa as it eyes further success in the Middle East.
In the second part of Energy Voice's week-long series looking at the Hungarian company's operations, the exploration and business development senior vice president spoke about ongoing operations.
MOL has had a 40% working interest in the Ngosso Block in Cameroon since 2007.
But speaking at the company's headquarters in Budapest, Glover said the current state of play was being reviewed.
He said:"Cameroon has been an exploration play for us for some years now we're just in the processes of completing a drilling activity that was ongoing but has unfortunately not been successful in Cameroon and we now need to look at what the next steps are and we're right at the very end of that.
"We'll be making the decisions along with the operator over what happens in the coming months.
"We're not focusing on West Africa at this time as being an area for growth and that's simply because in most cases it's offshore and we haven't had that capability.
"But by moving into an offshore position in Norway and the UK it gives us diversity which later might allow us to go back to areas like this and say, well, not only can we be a minority shareholder but we can be an operator as well.
"We want to try and open up the global portfolio to bring greater opportunity in the future.
"I think we've got to be very clear about this, I don't see any great future for MOL in a country like Cameroon."
The company has a strong presence in Pakistan, which Glover said could seem "risky to others, not to us".
He said MOL's operations in the country had been very successful while its business in Kurdistan is a "very long strategic play".
He said:"Our portfolio has some risky components in it – risky to others, not to us. Our business in Pakistan has been very successful, our business in Kurdistan is a very long strategic play and in terms of where we would look elsewhere we need to look at balancing that type of risk.
"We saw the North Sea as an opportunity to do so in terms of where we step next I think that's a work in progress and it's my role along with the team in Hungary to ensure we look at every possible opportunity.
"Right now we are blessed with the opportunities that are out there but first of all we'll focus on the North Sea and our other assets before looking out at where we might go next.
"We have started out by looking for opportunities in places like Pakistan and we've actually been there 14 years, in Pakistan, and we've been in a number of different countries and most of them have focused on areas which are quite challenging in terms of upstream.
"A lot of people say Pakistan wouldn't be the first country they would go to but for us actually it's been incredibly successful, we've been able to maintain excellent relationships not only at a political level but more importantly on the ground.
"Pakistan as you've heard has been a great success story but of course as you explore for oil and develop for oil and gas as well it's not always about successes.
"You've got to understand that every time you roll that exploration dice the chances are you're going to fail, you're not going to find oil and gas – 75-80% of chances are you won't do it.
"There are certain countries we've been in where we've been less successful. And that's what progress is all about -you learn from those not so successful areas and you move on.
"We're present in Russia and we're present in Kazakhstan and we're very confident about being able to grow our positions there.
"We're present in Kurdistan and have been for some years now and we're continuing to look for opportunities in Kurdistan and work with Gulf Keystone to develop what we see as an asset in Shaikan.
Glover said its exploration in Kurdistan had been an "expensive business" as the drilling in the region is focused on deep wells.
He said: "It's been an expensive business but let me think about it in the context of exploration in general.
"If you're going to look for oil you're going to have to be prepared to invest significant amounts of oil, business in Kurdistan in terms of drilling wells is not cheap, these are deep wells.
"We felt this was worth pursuing as hard as we could. We're very proud of the efforts the teams have made to try and unlock the opportunities we saw within the block, as with all exploration business, it's not always successful.
"Sometimes you come out the other end and say: I don't want to invest in this anymore. I feel there are better opportunities elsewhere. For us we said, ok, enough is enough with Akri-Bijeel."
Glover said the company was still producing between 2,000 and 2,200 barrels of oil per day from Akri-Bijeel but once current production is completed, "that will be it".
Shaikan in the Kurdistan Region of Iraq will be, Glover said, one of MOL's "star assets" of the future.
He said the operations in the region were a "25 year game" with Shaikan.
Glover said: "There's an old saying that big fields just keep getting bigger and that's what Shaikan seems to do.
"We look at it as being one of our star assets of the future…It's not without difficulties in moving forward in Kurdistan as I say exploration and thereafter development and production is not something you invest in for a couple of years. This is a lifetime of investment.
"That's what you've got to look at, it's a 25-year game. We've been there seven years and we've had great success in Shaikan, we've had a mixed bag in Akri and we've had to say it's enough and move on but that's what exploration is all about.
"We look to continue a very god relationship that we have with the Kurdistan regional government and we will see what opportunities come up in the region."
Glover said MOL will continue to focus on Hungary and Croatia and the lower oil price would not stop the company from investing.
He said the firm's return on investment is "incredibly good", allowing the company to be robust during a lower oil price.
"While people might say this is not the time to invest as most of you well know the opportunities that come up are normally when companies start to become stretched. We can look at those opportunities and see if we can get something that in the longer term could be very valuable for us.
"It's not just a case of saying let's sit tight and hope the oil price goes away and goes back to the right number, we are strategically looking at what our best options are," he added.
Read the first part in our week-long series here, in which Brian Glover explains why the North Sea still has a strong future ahead of itself.
Recommended for you

OCP calls first mover advantage in move to green ammonia