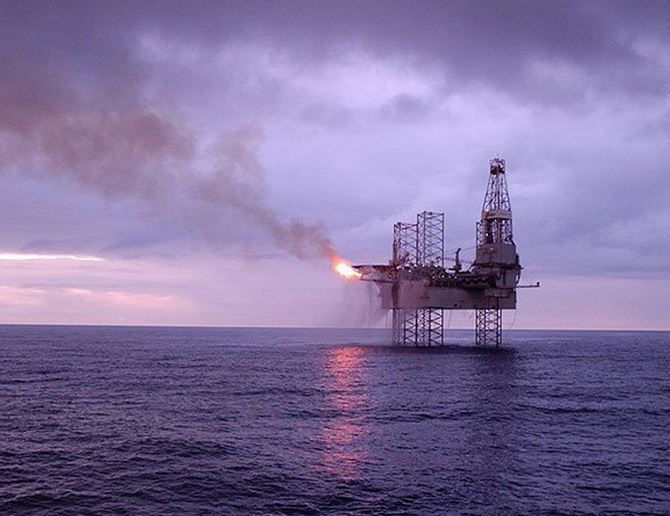 The UK treasury made a multimillion-pound loss on North Sea oil and gas for the first time in 40 years.
Thanks to the plummeting oil price, dipping government revenues were outweighed by repayments to producers in the first six months of this financial year.
It is thought to be the first loss recorded over a six-month period since the industry was established.
Scottish energy minister Fergus Ewing insisted that oil and gas could proposer for decades in the North Sea – but opposition parties suggested the revelation reflected the benefits of being part of the UK.
According to HMRC, the total amount of corporation and petroleum revenue tax (PRT) collected since April is £248million – with £287m worth of rebates paid out.
The oil and gas accounts showed a loss because of the timing of corporation tax payments, Westminster officials suggested.
The Office of Budget Responsibility (OBR) has indicated that the UK will earn £700m over the course of this financial year.
Alexander Kemp, professor of petroleum economics at Aberdeen University, said it was "quite right" that the UK Government support the industry during the downturn.
He added: "This is an inevitable consequence of the tax system. In 2011-12 revenues were £11.3billion. For this financial year the OBR is suggesting they are going to be £700million.
"It would take a dramatic change in the oil price for revenues to rise and we don't think that is going to happen.
"I would expect that for the next year or two the revenues will be very low."
Conservative and Labour MSPs have rounded on the figures, which they suggest undermines SNP arguments about the economic stability of an independent Scotland.
North East Scottish Conservative MSP Alex Johnstone said: "(Little) more than a year ago the SNP was brushing aside all the evidence to insist North Sea oil revenues would help pay for schools, hospitals and benefits in an independent Scotland.
"That deception has now been utterly exposed – it is high time the SNP apologised."
Labour's Jackie Baillie called on the SNP to be "transparent about Scotland's finances".
But Mr Ewing insisted the industry would recover.
He said: "The fiscal reforms for the UK Government, which the Scottish Government has long called for, will encourage additional production and investment that will boost government revenues in the coming years."
An HMRC spokeswoman said: "Falling oil and gas prices, reduced production, increased investment spend and costs of decommissioning have resulted in some companies making significant losses. These losses can be 'carried back' and offset against PRT paid in previous years.
"This has resulted in significant repayment of PRT between April and September 2015."
That deception has now been exposed – it is high time the SNP apologised