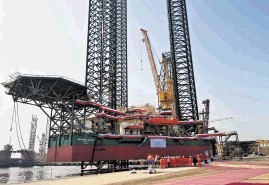 The United Arab Emirates will play a key role in the stability of oil markets in the future and is committed to continue spending on its energy projects regardless of the oil price, the country's oil minister said on Thursday.
"You have a reputation as a government to maintain your supply arrangements with your legacy customers and keep your commitments," Suhail al-Mazrouei said at the closing session of an oil and gas conference in Abu Dhabi.
"That is what makes them come to us, is that they know we will spend in good days and difficult days."
Oil prices more than halved in the past 18 months because of a global supply glut partly as a result of a US shale oil boom and also because of a decision by OPEC not to cut output but to fight instead for market share with higher cost producers.
The UAE has repeatedly said it would push ahead with all its planned projects despite the drop in oil price.
"The UAE played a key role in the political stability of this region and the UAE will play … a key role in the stability of the market," he said.
Mazrouei said his country was able to continue investing and ensuring future supply despite the downturn.
"The UAE is continuing investments when many of the companies are cancelling, that means that those who invest in difficult times are going to be ready to introduce production to the market when there is a need to stabilise it," he said.
"That is the role of bigger players like UAE and Saudi and others."
The minister maintained 2016 would see an upward correction in prices. "But for that to happen we need everyone to do their part," he said.
Recommended for you

Crude oil snaps three-day advance as traders digest fed outlook