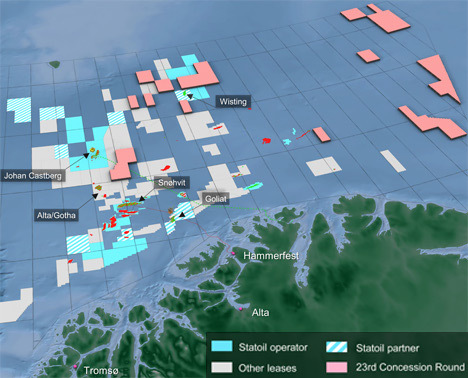 Norway's 23rd licensing round has attracted 26 companies keen to explore in the Barents Sea.
The Norwegian Petroleum Directorate revealed that the appetite to explore within the Arctic Circle was strong, despite the latest licensing round taking place in the teeth of global oil glut and low prices.
Among the firms keen to explore are Statoil, Shell, Chevron and ConocoPhillips and BP. The list also included two newcomers INPEX and Kufpec. Kufpec also applied in this year's APA round.
This licensing round comprises 57 announced blocks or parts of blocks, three of which are in the Norwegian Sea and 54 in the Barents Sea.
The NPD said 34 of the announced blocks are situated in the newly opened area in the south-eastern Barents Sea, and many of the applications target this acreage in particular.
"It is good to see that so many competent companies want to explore in new acreage during a time when we are experiencing low oil prices and substantial cost cuts. This shows that the companies recognise opportunities and the potential of finding oil and gas in these new areas," comments Sissel Eriksen, exploration director in the NPD.
She notes that the announced blocks are located in frontier areas, and that more exploration is needed in order to clarify the resource potential.
A total of 36 companies applied for production licences in the 22nd licensing round.
APA 2015 garnered a great deal of interest, with as many as 44 companies submitting applications. This can indicate that the smaller players have prioritised APA ahead of the 23rd licensing round this year.
The full list comprises: A/S Norske Shell, BP Norge AS, Capricorn Norge AS, Centrica Resources (Norge) AS, Chevron Norge AS, ConocoPhillips Skandinavia AS, DEA Norge AS, Det norske oljeselskap ASA, DONG E&P Norge AS, E.ON E&P Norge AS, Edison Norge AS, Faroe Petroleum Norge AS, Idemitsu Petroleum Norge AS, INPEX Norge AS, KUFPEC Norway AS, Lukoil Overseas North Shelf AS, Lundin Norway AS, Moeco, Oil & Gas Norge AS, OMV (Norge) AS, PGNiG Upstream International AS, Pure E&P Norway AS, RN Nordic Oil AS, Spike Exploration AS, Statoil Petroleum AS, Tullow Oil Norge AS, Wintershall Norge AS
The list reveals a broad player landscape with mostly large and medium-sized companies, but also a few smaller players.
Eriksen said: "It is exciting that new companies want to enter the Norwegian Shelf. The authorities have worked for many years to facilitate the establishment of new players here, as we are certain that this can contribute to enhanced value creation."
Applications will now be reviewed with the NPD looking for the companies with the best knowledge, the best applications and the best strategy for exploring the areas.
The Ministry of Petroleum and Energy plans to award new licences in the 23rd licensing round sometime before summer 2016.
Recommended for you

Oil and gas companies lodge over 100 bids in North Sea licensing round