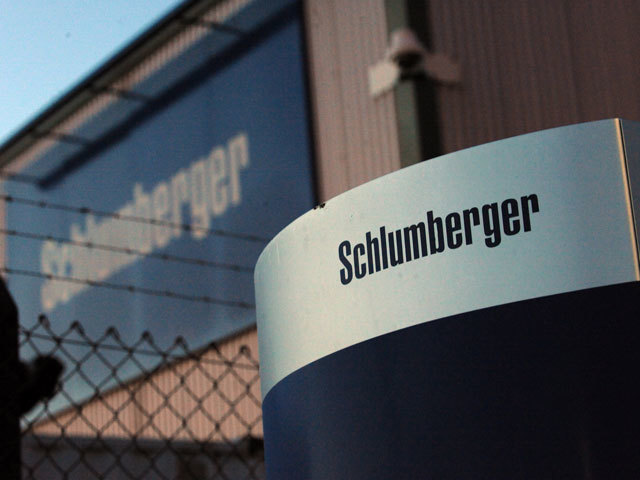 Schlumberger Ltd. posted a fourth-quarter loss as the company cut another 10,000 jobs and took a $1.46 a share charge to account for restructuring as the oil market downturn deepened.
The world's largest oilfield service provider reported a loss of $1.02 billion, or 81 cents a share, compared to profit of $302 million, or 23 cents, a year earlier, the Houston- and Paris-based company said in a statement Thursday. Excluding charges, Schlumberger earned 65 cents a share, 2 cents more than the average 63 cents estimated by 37 analysts in a Bloomberg survey.
Results in the year-ago period were reduced by $1.77 billion in charges as the company completed its first major round of restructuring amid plunging oil prices.
The 10,000 in job cuts added to 20,000 layoffs the company has taken since the downturn began a year and a half ago.
The company authorized a 50 cent quarterly dividend and a new $10 billion share buyback program, according to the statement. Its current $10 billion repurchase plan that was approved in the third quarter 2013 is about to be completed.
Drilling Cutbacks
The global energy industry slashed more than $100 billion in spending and 250,000 jobs last year to keep pace with crude prices that have fallen more than 70 percent since June 2014. The total number of U.S. oil and natural gas drilling rigs working in the quarter fell to 698, down more than half from 1,840 rigs at the end of 2014.
Sales collapsed as the price for global benchmark Brent crude averaged $44.75 a barrel in the quarter, almost 42 percent less than the year-ago period, forcing the company to cut prices to retain business.
"The whole industry is so over-capacity," Luke Lemoine, an analyst at Capital One Southcoast in New Orleans who rates the shares the equivalent of a buy and owns none, said in a phone interview before the results were released.
"The marginal and swing companies will be fighting hard for utilization. It's going to be pretty difficult for prices to go up."
The company's operating profit margin could slip to as low as 5 percent in North America by the first quarter, after it was 8.9 percent in the third quarter, Lemoine said. It may not be until late 2017 that Schlumberger and its peers will gain the ability to push prices back up for some of their highly competitive services such as hydraulic fracturing, he said. Schlumberger has fallen more than 10 percent this year. The earnings statement was released after the close of regular trading in New York.
Recommended for you

Updated: Chevron falls after posting disappointing quarterly result