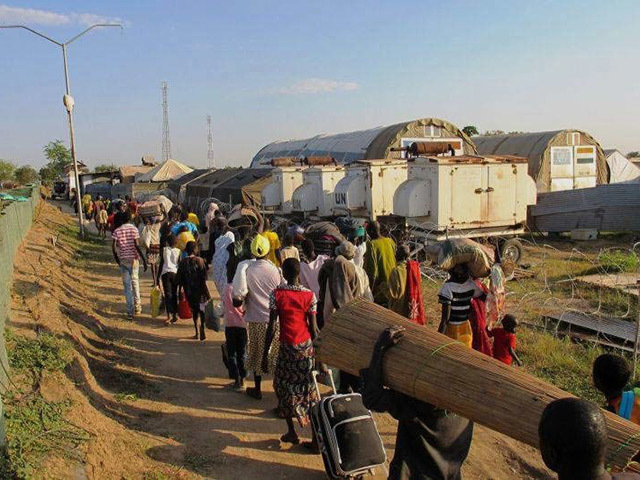 A Chinese state oil company moved some staff from South Sudan, where fighting flared almost two weeks ago, as the African nation's military said it's trying to disperse an armed group that's threatening to march on the capital.
China National Petroleum Corp. has evacuated 191 employees, leaving 77 people to help keep South Sudan's oilfields running, the company said Tuesday in a statement on its website. The country, which has sub-Saharan Africa's third-biggest crude reserves, is producing as little as 120,000 barrels a day because of a civil war that erupted in December 2013 and claimed tens of thousands of lives.
The evacuations follow clashes in South Sudan's capital, Juba, between forces loyal to President Salva Kiir and his deputy, Riek Machar, that erupted July 7 and continued sporadically for about five days, leaving at least 272 people dead. Two Chinese peacekeepers serving with the United Nations were among those killed.
An uneasy calm has held in Juba since the two leaders announced a cease-fire on July 12 after Machar's fighters were forced from the capital. The UN and East African nations have discussed deploying more troops.
Army spokesman Lul Ruai Koang said on Tuesday that the military is communicating with an armed group of about 3,000 people who have mobilized in central Jonglei state and threatened to attack Juba.
"We are communicating with them to stop this and disperse," Koang said by phone from the capital. "If they insist to fight, we will attack them with our air force. This is the warning we are giving them."
South Sudanese Petroleum Minister Dak Duop Bischok's phone was switched off when Bloomberg called seeking comment. The country's crude, which is also pumped by Malaysia's Petroliam Nasional Bhd and India's Oil & Natural Gas Corp., is exported via a pipeline through its northern neighbor, Sudan. Upper Nile is the only South Sudanese state still producing oil after Unity state halted output shortly after the civil war began.
Recommended for you

Sunak highlights hydrogen opportunities as South Africa visit begins