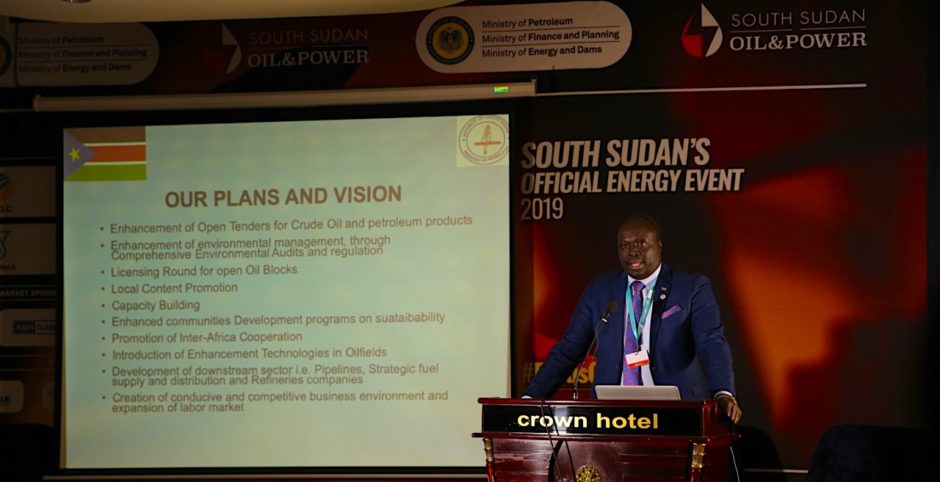 South Sudan plans to offer 13 blocks under a licence round to be launched in the first quarter of 2020, moving away from the previous preference for direct negotiations.
South Sudan's Minister of Petroleum Daniel Awow Chuang set out the plans at the recently concluded South Sudan Oil & Power conference, in Juba. The country is producing 178,000 bpd, he said, but it hopes "to reach 250,000 bpd in the near future. We are successfully reaching target thanks to extensive support from our partners and neighbouring countries".
In particular, the minister noted the importance of its co-operation with its northern neighbour, Sudan. South Sudan exports all of its crude through Port Sudan.
South Sudan has attempted to boost exploration in an attempt to tackle its production declines. Nigeria's Oranto Petroleum began exploring on the B3 block in 2017 and a deal was signed with the South African state-owned Strategic Fuel Fund (SFF) for B2. The South African company said it would begin an aerial survey in December.
One company working to boost South Sudanese production is Sudd Petroleum Operating Co. (SPOC), which expects to restart output by the end of the year. The company holds Block 5A, which covers 20,917 square km, it has two fields, Thar Jath and Mala. The central production facility (CPF) on the block can handle 80,000 bpd, but the company said it expected output to be 18,000 bpd.
Production halted on the block in 2013 and work must be carried out to rehabilitate equipment that was abandoned at the facilities.
Greater Pioneer Operating Co. (GPOC), in a presentation by Tap Magok Gai, reported production was 49,000 bpd from Blocks 1, 2 and 4. Output is coming from five fields, with 64 wells currently producing, to the Heglig CPF.
This venture shut down production in 2013, resuming operations in 2018. It expects to increase output to 59,000 bpd in 2021, before going into a gradual decline. Peak production was reported in 2004, at 214,000 bpd.
The GPOC presentation set out a number of challenges, including the management of ageing assets, difficulty in accessing fields during the rainy season and customs difficulties.
One area that offers potential scope for improvement is increasing the recovery factor. Block 5A. The petroleum initially in place (PIIP) figure for the block was put by SPOC at 2.9 billion barrels, but with an estimated ultimate recoverable of only 221 million barrels. The company is already working on a combination of horizontal and vertical wells but there may be the potential for more.
SPOC is 67.88% owned by Malaysia's Petronas, 24.13% by India's ONGC Videsh Ltd (OVL) and 8% by South Sudan's Nilepet. GPOC is 40% owned by China National Petroleum Corp. (CNPC), 30% by Petronas, 25% by OVL and 5% by Nilepet.