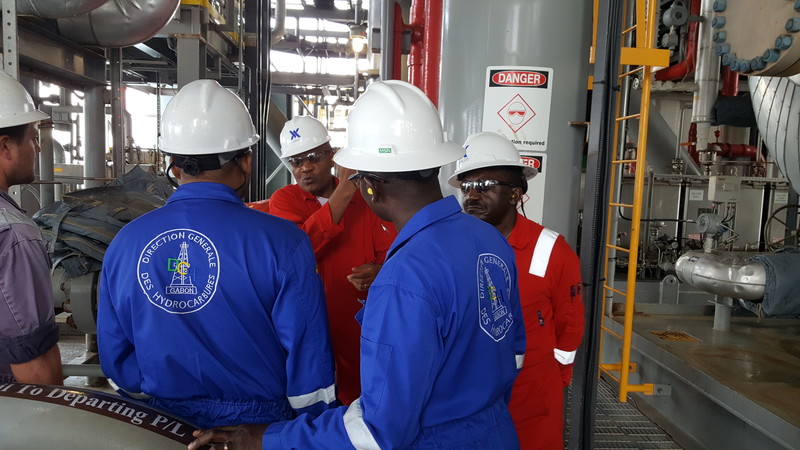 Vaalco Energy has brought the Etame 9H well into production at a stabilised flow of 5,500 barrels per day, of which 1,500 bpd is net.
This is higher than had been expected, with the pre-drill estimate of 2,500-3,500 bpd, or 675-960 bpd net. As a result of this, the company has increased its 2019 exit rate to 4,500-4,700 bpd, an increase of 16% from previous estimates. Average production in the third quarter was 3,081 bpd.
The development well was drilled as part of the company's 2019-20 drilling programme an includes 1,000 feet (305 metres) horizontal section in the Gamba reservoir. Unlike other wells drilled by Vaalco in the area there is no H2S discovered. Success at 9H has led Vaalco to expect to recategorise 6.2 million barrels of undeveloped reserves to developed by the end of the year.
Vaalco's CEO Cary Bounds said the result was a "significant first step toward increasing overall production by approximately 25% in 2020 compared to 2019".
Total depth of the 9H well was around 8,900 feet (2,712 metres). The horizontal section in the Gamba was drilled where the reservoir is around 45 feet (14 metres) thick.
Work has begun on the 11H horizontal development well, which should begin producing in late January. Furthermore, plans are under way for workover activity on the 10H, which will replace the electric submersible pump (ESP), and the drilling of the SE Etame 4P appraisal.
The workover of 10H could add another 735 bpd gross, or 200 bpd net to Vaalco.
Drilling of the SE Etame 4P would be from the Southeast Etame/North Tchibala platform. This second appraisal will complete Vaalco's drilling commitments agreed under the production-sharing contract (PSC) extension agreed in September 2018. The extension allows the licence to run until 2028, with options for two additional five year periods.
However, should the SE Etame 4P be successful, Vaalco said it would plan a third development well as part of the ongoing 2019-20 campaign.
The Etame 9P appraisal was the first well to be drilled in the 2019-20 campaign, with success in the Gamba and Dentale reservoirs.
Recommended for you

Vaalco starts up second well, spuds a third