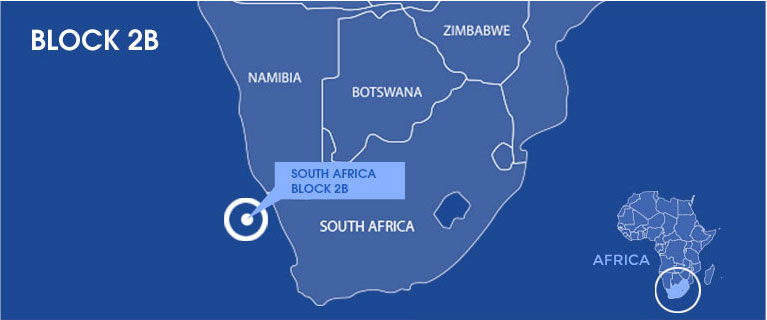 Africa Energy has signed farm-out agreements on Block 2B offshore South Africa, with Panoro Energy and Azinam.
Azinam will take a 50% stake in the block, while Panoro will take 12.5% leaving Africa Energy with 27.5%. The partners plan to drill the Gazania-1 exploration well by the end of 2020.
"We are excited to farmout part of our interest in Block 2B and add a carried well to our very active and potentially transformational 2020 drilling programme," said Africa Energy's president and CEO Garrett Soden.
An oil discovery, the A-J1, was drilled on the block in 1988 in shallow water close to the shore. "The Gazania-1 well will target a relatively low-risk rift basin oil play up-dip from the discovery. We look forward to working with our new partners Azinam and Panoro to prove up more resource offshore South Africa," said Soden.
Azinam will pay $0.5 million at closing and cover a disproportionate amount of costs on the Gazania-1. Panoro will also pay a disproportionate share of costs on the well.
The block is in the Orange Basin, covering 3,604 square km off the west coast of South Africa. Water depths in the area range from 50 to 200 metres. A 3D seismic survey on 686 square km was shot in 2013, with Africa Energy saying this had found significant prospectivity over the A-J graben area.
The remaining 10% of the block is held by Sweden's Crown Energy.
Azinam entered the Orange Basin in 2018 taking stakes in Block 3B/4B and Nearshore Block 3B/4B, under a deal with Ricocure. The privately backed company also has interests in Namibia, but these are in the Walvis Basin, rather than the shared Orange Basin.
Total intends to test Namibia's deepwater Orange Basin in the first half of this year with the Venus well. Africa Energy is working with the French company at Block 11B/12B, where the Brulpadda discovery was announced in February 2019. The partners plan to spud the Luiperd-1 well in the second quarter of this year, with up to three consecutive exploration wells expected this year on the block.
Africa Energy's largest shareholder is Africa Oil, with around 35%, while the Lundin family has 12%. Africa Oil farmed in to Block 3B/4B via a deal with Azinam earlier this month.
Recommended for you

South Africa seeks seismic providers ahead of licence round