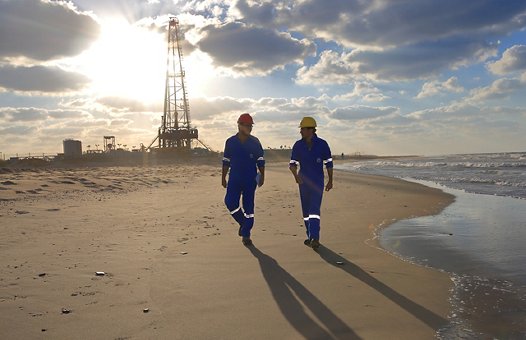 A well drilled offshore Egypt may be able to flow at up to 100 million cubic feet (2.83 million cubic metres) per day of gas, Total has reported.
Eni declared the Bashrush discovery at the beginning of July but gave no information on the flow rate.
The French company said a production test on the well had flowed at up to 32 mmcf (906,200 cubic metres) per day. Testing equipment limited the flow.
Partners drilled the Bashrush well on the North El Hammad licence, 11 km offshore.
Total reported the well had found 102 metres of net gas pay in high-quality sandstones in the Abu Madi formation. In addition to the gas, the French company said it could also produce up to 800 barrels per day of condensate.
Partners on the licence expected to develop the find through nearby existing infrastructure.
"We are very pleased to announce this discovery in Egypt. These results support our strategy to allocate a significant share of our exploration budget to the search of hydrocarbons in the vicinity of existing infrastructures," said Total's senior vice president of exploration Kevin McLachlan.
"These resources have low development costs since they can rapidly be tie-in and put into production."
Eni and BP each have 37.5% stakes in the North El Hammad licence, while Total has 25%.
Western Desert
The Italian company has also announced an oil discovery onshore in the Western Desert, with the well already having been connected to the production network.
Eni said it had drilled the SWM-A-6X well on the South West Meleiha concession. This is around 130 km north of the Siwa Oasis. The company drilled the well close to existing facilities, it said, allowing a rapid tie-in.
Eni drilled the well in the Faghur Basin, reaching a total depth of 15,800 feet (4,816 metres). The company said the well had found 130 feet (39.6 metres) of net oil pay in the Palaeozoic sandstones of the Dessouky formation.
The SWM-A-6X well is producing 5,000 barrels per day of oil.
The company began producing at South West Meleiha in July 2019. Its new discoveries have helped boost output to 12,000 bpd.
Eni is working in the Western Desert through its Agiba joint venture, with Egyptian General Petroleum Corp. (EGPC).
The Italian company is producing more than 300,000 barrels of oil equivalent per day in Egypt. A large part of which comes from its offshore gas production.
Recommended for you

Kuwait Energy adds up ASH-3 at Abu Sennan