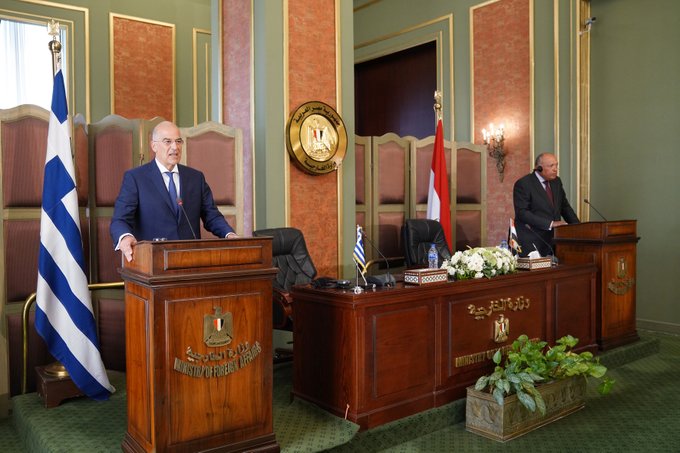 Egypt and Greece have signed an agreement on how to divide territorial waters, a move swiftly condemned by Turkey.
Greek Minister of Foreign Affairs Nikos Dendias signed the deal with Egyptian Foreign Minister Sameh Shoukry.
"This agreement between us today reconfirms and enshrines the effect and the right of our islands to a continental shelf and EEZ," said Dendias.
"And, as of today, Greek-Egyptian relations are entering a new phase of closer contacts. We have laid solid foundations for us to move ahead together, in co-ordination, in order to address the common challenges in our wider environment."
Greece and Egypt signed the EEZ agreement in the framework of international laws, Dendias said. Greece will act in a similar way with other neighbours. He cited a similar EEZ agreement with Italy, in June.
"It also abides with the rules of good neighbourly relations." As such, he said, it is the "exact opposite" of the memorandum of understanding (MoU) signed between Turkey and Libya's Government of National Accord (GNA), in November 2019.
"Following the signing of today's agreement, the null and void Turkey-Libya agreement has ended up where it belonged from the very first moment: in the rubbish bin," the minister said.
Fault lines
Turkey, naturally, felt differently. The border between Greece and Egypt "does not exist" a statement from Turkey's Ministry of Foreign Affairs said.
The area agreed on "lies within the Turkish continental shelf as declared to the United Nations". The Greece-Egypt deal also "attempts to usurp the rights of Libya".
Turkey said it would not allow any activity in the disputed area and would continue to defend its interests and rights in the Eastern Mediterranean.
The Egyptian ministry responded to the Turkish declaration by saying that Turkey did not understand the agreement and its details.
The Turkey-GNA deal from 2019 sparked protests from Greece and Egypt. A Greek deputy minister pulled out of the opening ceremony of the Trans-Anatolian Pipeline (TANAP). Athens also expelled the Libyan ambassador.
The deal also raises some questions about Egypt's western offshore. A number of companies have signed up to work in the Herodotus Basin, including Chevron and ExxonMobil, and there may be dispute over some of this area.
Turkey had been pursuing a drilling campaign in waters it has claimed. The European Union imposed sanctions on two people in February this year in response. The country made some moves to suspend exploration at the end of July. Turkey may see the Egypt-Greece deal as worthy of a response, such as resuming seismic.