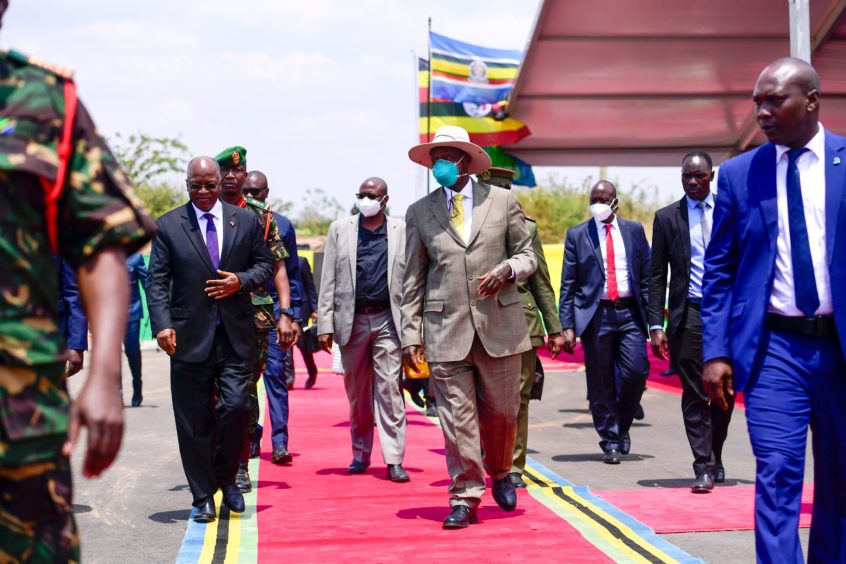 Uganda has signed a host government agreement (HGA) with Total on the East Africa Crude Oil Pipeline (EACOP), followed by new declarations with Tanzania on the link.
The HGA was signed on September 11. Ugandan Minister of Energy and Mineral Development Mary-Gorett Kitutu signed the deal with Total Exploration and Production's president for Africa Nicolas Terraz. Ugandan President Yoweri Museveni oversaw the signing, as did Total's CEO Patrick Pouyanné.
The HGA sets out the commercial framework for the Lake Albert development. Uganda described the signing as a significant step towards reaching a final investment decision (FID) by the end of the year.
"It has taken long, but it was a deliberate move, I can assure you Ugandans," Museveni said. "We have been slow but steady and sure."
The agreement between Total and Uganda also provides scope for Uganda National Oil Co. (UNOC) taking a stake in the upstream project.
Following the signature of the deal with the French parties, Museveni jumped on an aeroplane and visited his Tanzanian counterpart, John Magufuli, on September 13.
The two signed an agreement to begin building the 1,445 km EACOP, which will run from Hoima in Uganda to the Tanzanian port city of Tanga.
Museveni said the two governments would "expedite the harmonisation of pending issues". The two sides agreed that remaining deals "be fast-tracked, including the Tanzanian HGA and we quickly carry out the implementation of EACOP project".
Tanzania Petroleum Development Corp. (TPDC) said the two countries had agreed to harmonise their HGAs. This should allow them to have a common view on how the plan goes ahead.
The foundation stone for the link was laid in August 2017 but progress has stalled since. The cost of exporting a barrel of oil through the pipeline was set at $12.2 per barrel in 2017.
Magufuli expressed the hope that the pipeline would create employment, saying it might generate as many as 15,000 jobs. It will be the longest heated pipeline in the world.
Total is in the process of buying Tullow Oil's stake in the Ugandan project. The Ugandan government approved the transfer of operatorship to the French company on August 6.
The government and the Uganda Revenue Authority (URA) have yet to enter a binding tax agreement on the transaction. Tullow said in its half-year results that progress was being made. The company expects to complete the sale by the end of 2020.
Recommended for you

EACOP back on track with Chinese funding, minister says