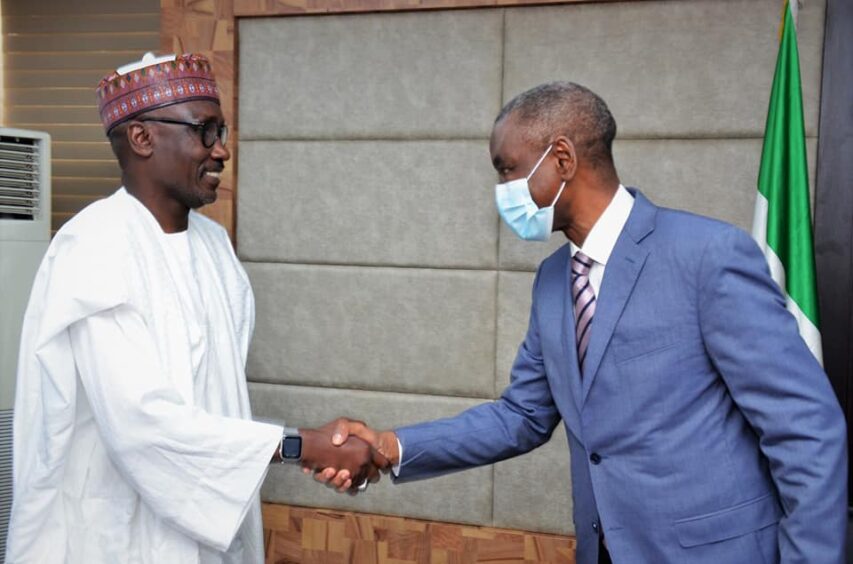 Nigerian National Petroleum Corp. (NNPC) reported a profit for 2020, but there are challenges ahead.
PwC noted that NNPC's current liabilities were more than its current assets, by 4.6 trillion naira ($11.2 billion). As such, the auditor said, there is a "material uncertainty" that "may cast significant doubt on the group and corporation's ability to continue as a going concern".
Despite earning a profit, the gap actually increased in 2020 from 2019. In the previous year's report, PwC reported liabilities were 4.4tn naira ($10.7bn) more than assets. Total current liabilities reached 10.82tn naira ($26.3bn) for 2020, up from 9.71tn naira ($23.6bn) in 2019 and 8.69tn naira ($21.1bn) in 2018.
NNPC directors, though, were more nonchalant. In their report they said there was "no reason" not to believe the group would not be a "going concern for the year ahead".
One aspect where NNPC has improved is through the reversal of a 713bn naira ($1.7bn) impairment.
CSL Stockbrokers described NNPC's situation as "shaky", expressing concern that it would be unable to repeat its 2020 performance. It was only intervention from the government that allowed it to report a profit.
For NNPC to improve its performance in the future, it will need to drive improved efficiency through "a restructuring of the establishment", CSL said.
In notes, the report said the government was taking steps to ensure NNPC was commercially viable. These included the introduction of a price modulator for fuel sales, reducing pipeline breaches and resolving the shortfalls owed to the state.
As the company noted, the government passed the Petroleum Industry Act (PIA) in August. Under this, NNPC will transfer its assets, interests and liabilities to a new company within 18 months of the PIA becoming law.
The PIA gives NNPC the "autonomy to operate profitably", the report continued. There are plans for a recapitalisation of NNPC, which would resolve all payables and receivables. This would see the company starting on a "clean slate".
Major costs
Royalties increased to 893.6 billion naira ($2.2bn), from 145.6bn naira ($35.4mn) in 2019. However, the effective tax rate fell to 60.1%, from 98.1%.
NNPC noted that it is approved to offset three major costs against the balance it owes to the state. These are crude and pipeline losses, pipeline maintenance costs and fuel prices. NNPC defrayed 202.8bn naira ($493mn) under this in 2020.
NNPC is restricted from selling premium motor spirit (PMS) above a certain price.
Unfortunately, the cost of importing this fuel is "much higher than this regulated price", the company said. As a result, under recovery accounted for 102bn naira ($248mn) in 2020.
Revenue from the sale of petroleum products was 2.2tn naira ($5.3bn) in 2020, down from 2.92tn naira ($7bn) in 2019.
Crude and product losses reached 16bn naira ($38.9mn), pipeline management costs were 53bn naira ($129mn) and deregulation losses were 32bn naira ($77.8mn).
Financing
Nigeria is working on plans to overhaul its refining sector. This has begun with work at the Port Harcourt, under a contract with Tecnimont. NNPC reported that the federal government had provided 64bn naira ($155mn) to support this work.
Contract liabilities for NNPC increased, based on Nigeria LNG (NLNG) project financing and Eagle Project, up by $742.9mn.
Under the former, NNPC agreed to provide more gas to the LNG project in return for an advance on a cash call. As of the end of 2020, NNPC's Nigerian Petroleum Development Co. (NPDC) has drawn down $136.7mn, of which NLNG has recovered $20.6mn.
Eagle Project sees a group of lenders providing funds up front, secured against NPDC's future oil production. The NNPC unit received $692mn in 2020 under this pre-payment facility.
Forward plans
NNPC has made much of its profit in 2020, claiming that this is the first time for 44 years. The Nigerian presidency even went so far as to report this was a "giant-sized jinx" broken by President Muhammadu Buhari. "Such had never happened before," it reported.
The legitimacy of this claim has been question, although given the scarcity of records for NNPC it is hard to get the full picture.
There is an allegation that #NNPC dipped their fingers in the Federation Cookie Jar in order to announce bumper 2020 profits; they should come clean & publish details of all dividends received by them and tell us which ones they recently diverted from the Federation to themselves

— Atedo Peterside (@AtedoPeterside) August 29, 2021
As such, the transparency of publishing annual reports is a welcome step.
It is clear that the Nigerian government has a need for NNPC to succeed now. This is not least because of the plans for an NNPC IPO, which may take place in 2024.
NNPC head Mele Kyari has recognised the challenges ahead for the company. The PIA has set the stage, but NNPC must now perform its transformation.
Recommended for you

SERAP files suit against president over mismanaged refineries