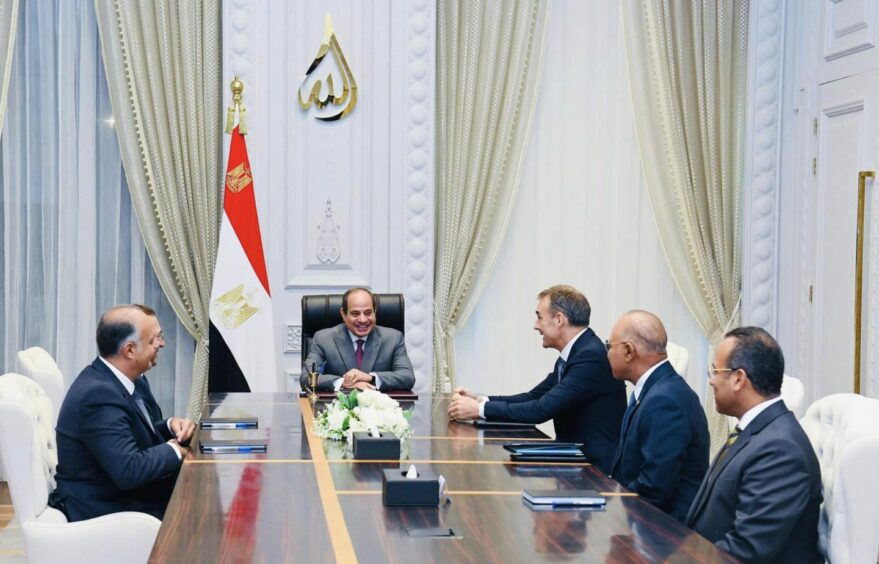 BP CEO Bernard Looney held talks today with Egypt President Abdel Fattah al-Sisi and Minister of Petroleum and Mineral Resources Tarek El Molla.
Nader Zaki, BP regional president for the Middle East and North Africa, also attended.
Looney set out BP's plans for Egypt, saying the company expected to invest $3.5 billion in the country over the next three years.
The BP executive said the company's relationship with Egypt was a strategic partnership, and had run for more than 60 years, according to a statement from the presidency. Looney also highlighted Egypt's progress in developing infrastructure and renewables under El-Sisi.
Egyptian officials said they intended to enhance their co-operation with BP, particularly around reducing emissions and the energy transition. Areas of interest included green hydrogen and traditional exploration and production.
According to Egypt's oil ministry, BP plans to drill four exploration wells, starting in the fourth quarter. This will include two wells on the Raven field and two wells in the North King Mariout Offshore and North West Abu Qir blocks.
The company won the two latter blocks in 2022.
BP has chartered the Valaris DS-12 drillship for work in Egypt, starting in December. The contract, worth $136 million, will run until November 2024. BP has also awarded work recently for its big offshore plans.
The operator is also in the process of acquiring acreage in the East Mediterranean, offshore Israel, with Adnoc. Looney, talking on the company's recent quarterly call, said BP was excited about the opportunities.
"We're excited about further developments potential exploration over the years ahead. So this gives us a real anchor in the Eastern Mediterranean," he said. "There's a lot of synergies across the countries that are involved there, and I think it's a natural extension of our partnership, and it's one that I think we hope that we can grow over time. There's huge demand for gas, both in the region and in Europe."
Apache aims
Apache executives recently visited Egypt to set out investment plans. The US based company, which produces more than 145,000 barrels per day in Egypt, has carried out an intensive drilling programme, the oil ministry said.
El Molla, talking to Apache, said the company should consider options to move into the Mediterranean in order to hunt for natural gas. Apache plans to invest around $1.4 billion over the next year.
Updated on August 29 at 10:02 am with information from oil ministry on drilling plans. 
Recommended for you

Video: The search for BP's CEO, who's in the running?