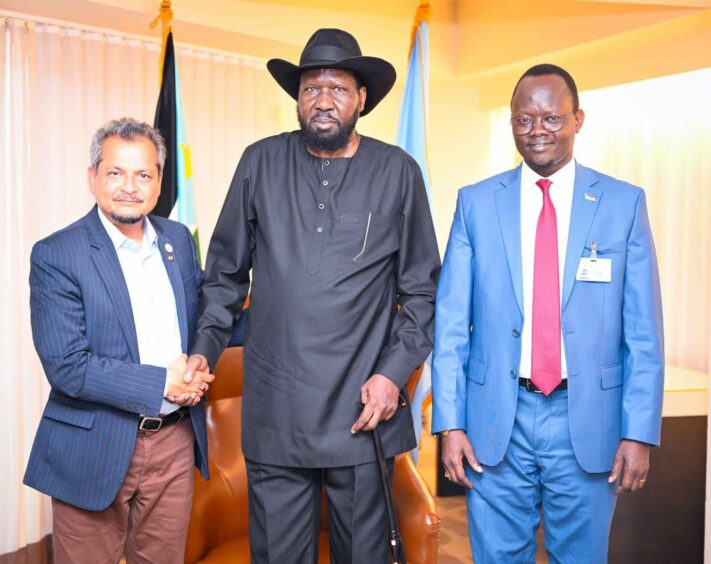 South Sudan yesterday announced a $3 billion deal with a small US company on the joint purchase of Petronas' stakes and other investments.
By this afternoon, the presidency had deleted the statement. It had not been clear how Caltech Investment would have followed through with its commitments.
The deal would have been a major blow to Savannah Energy, which has been working on the acquisition of Petronas' South Sudanese assets since December 2022.
President Salva Kiir announced the agreement with Caltech Investment during his visit to New York for the United Nations General Assembly.
The statement from the South Sudanese presidency valued the agreement at $3bn. According to Kiir, Caltech will partner with the government to buy Petronas' entire portfolio in the country for $1.25bn.
Kiir met Caltech COO Mohammed Malique in New York on September 22.
Minister of Finance and Planning Barnaba Bak Chol said the deal with Caltech would grow South Sudan's oil industry. Beyond the acquisition of Petronas, the US company would spend money on "vital infrastructure" in South Sudan, such as roads.
The South Sudan presidency said the company would provide $800 million within two months to begin the work. It quoted the Caltech official as saying the company was ready to move into South Sudan.
Projects that matter
The acquisition fit with Caltech's strategy of "Projects that Matter", the statement said.
Savannah has often used the phrase "projects that matter" when discussing its investment strategy throughout sub-Saharan Africa. The aim, according to Savannah, is to develop energy projects that change people's lives for the better, in particular around energy poverty.
Savannah expects to publish its admission document shortly setting out its acquisition of the Petronas assets.
The New Jersey-based Caltech shows little sign that it would be able to muster the $3bn discussed with President Kiir in New York. The company has two addresses, one in a strip mall, the other in a residential street.
Caltech has not yet responded to a request for comment, nor has the Ministry of Petroleum commented on due diligence carried out ahead of the agreement.
Updated at 6:19 pm to note the deletion of the statement from the South Sudan presidency on the Caltech deal. 
Recommended for you

Savannah battles challenges, pushes back South Sudan