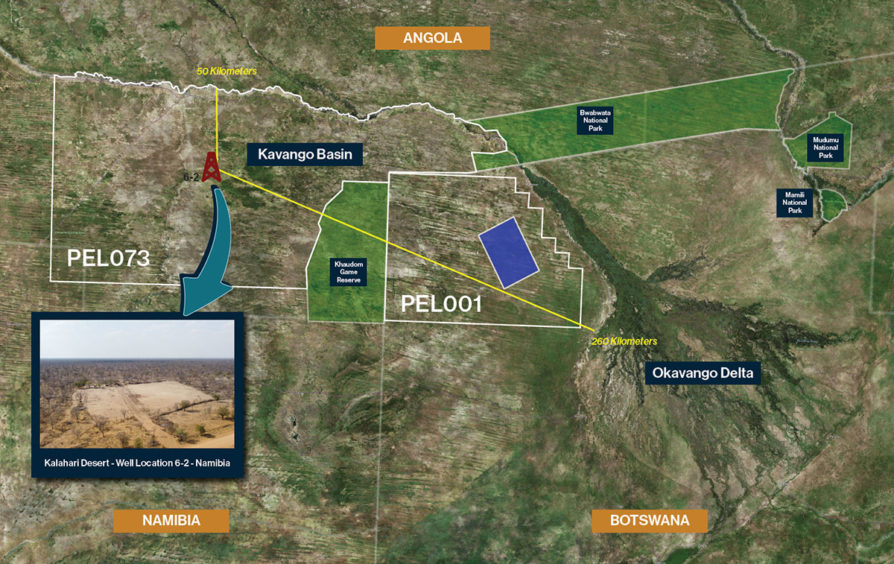 Botswana has stressed the importance of permitting and environmental regulations in comments around Reconnaissance Africa's plans – and a prohibition on hydraulic fracturing.
Botswanan Mineral Resources, Green Technology and Energy Security (MMGE) Minister Lefoko Moagi was eager to tackle "misleading information".
Protests have mounted in Namibia and South Africa. ReconAfrica is drilling a first well and shooting seismic in the former. The Canadian company has licensed an area in Namibia and across the border in Botswana.
During the first three years of its licence in Botswana, there are no plans for drilling, Moagi said. "The focus is on acquiring, processing, analysing and interpreting gravity and high-resolution magnetic data," he said.
The company will carry out desktop studies for the first two years. There is aeromagnetic coverage of around 80% of Botswana, which is available to companies.
ReconAfrica will provide an environmental impact study (EIS) in the third year, the minister said, required ahead of drilling.
Botswana will take decisions on the best interests of the country, Moagi said. "This may not be in the best interest of mining, or exploration, it may be the environment or the communities," he continued.
The country is open for new investment, officials said. New companies must follow the "strict and stringent requirements" that Botswana has in place.
Fracking
"All plans have to be approved by the ministry. Any method with uncontrolled pollution, or deemed to be unsafe such as fracking, is not allowed in Botswana," the minister said. The official expressed concerns about the use of chemicals involved in fracking, saying it was "not safe for the environment".
ReconAfrica has denied that it plans to carry out fracking on either side of the border, but it continues to dominate concerns from environmentalists.
The terms and conditions of companies working in Botswana require them to abide by "good industry practice", the minister said.
Moagi also highlighted that a World Heritage site in the area was off limits to ReconAfrica's work. "The ministry does not allow exploration within the core, or even buffer zones, of World Heritage sites. We continue to enforce that."
Unesco raised concerns about the Okavango Delta and Tsodilo sites in December 2020. Botswana updated the licence in January to exclude the Tsodilo Hills.
The Botswana officials were unwilling to comment on ReconAfrica's plans in Namibia. The two countries have held talks on the works and Namibia has invited Botswana to visit.
"Namibia is a neighbour and a partner. We will learn from them, including what is detrimental and not repeat [problems]," the minister said.
Recommended for you

ReconAfrica wins court ruling over Kavango environmental permits