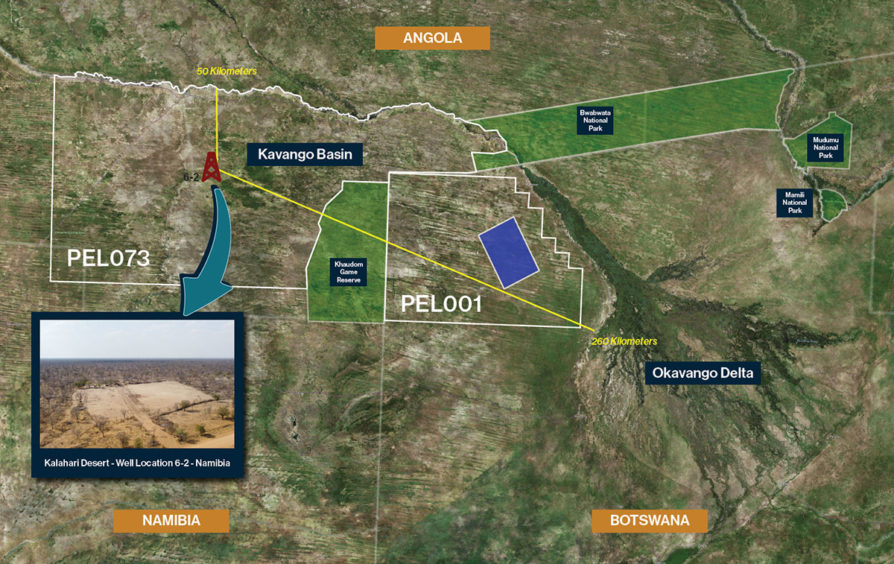 Reconnaissance Energy Africa has spudded the second well in the Kavango Basin, in northeast Namibia.
The company announced its first well, 6-2, had demonstrated a working petroleum system in April. The second well, 6-1, is aiming for a target depth of 3,800 metres.
This well intends to evaluate the system found by the first well in an area of maximum thickness, ReconAfrica said. These are the first two wells in one of the five major sub-basins.
ReconAfrica will carry out whole core, sidewall core and a full logging suite in all the zones of interest. This includes the conventional targets and the source rocks.
Schlumberger will carry out the logging programme, as with the 6-2 well.
The operator went on to say the it would run a vertical seismic profile (VSP) to provide the most accurate tie-in of well data with its 2D seismic programme, which is due to start in June.
The company has planned to drill three wells initially.
ReconAfrica has come under sustained criticism from environmental NGOs in South Africa and Namibia. Part of this criticism appears to be driven by concerns around fracking. The company has said it does not intend to do this.
As such, though, it has highlighted the steps it has taken to be more environmentally friendly. ReconAfrica will use a polyamine drilling fluid system, provided by Valence Drilling Fluids.
This drilling fluid uses freshwater as a base and adds plant-based products to the fluid. It is "100% safe to the environment", it said, and provides ideal samples to determine petroleum properties and future drilling sites.
ReconAfrica also said it had hired more than 200 Namibians. The company is also committed to training programmes, it said. It expects employment numbers to rise as drilling and seismic moves ahead.
Geologist Jan Arkert, a scientific advisor to Frackfree Namibia and Botswana, raised some concerns around the seconde well.
"The location of this well was not included in the EIA and the EMP Report that were submitted to the Ministry of Environment and Tourism, which informed their decision to award an Environmental Clearance Certificate," he said.
Arkert went on to say that ReconAfrica "have shown that they have no intention of following the terms and conditions of the EIA or the Environmental Clearance Certificate that has been issued."
A spokesperson for ReconAfrica said: "The relevant Environmental Impact Assessment (EIA), Environmental Management Plan (EMP) and Environmental Clearance Certificate (ECC) cover the conventional stratigraphic well at location 6-1, to explore and confirm the resource.
"The company is following all of the terms required under the ECC, which itself complies fully with the provisions of the Environmental Management Act (EMA), Act No. 7 of 2007. It is also ReconAfrica's practice to complete additional extended environmental and social monitoring and analyses of each site area.
"In addition, the Namibian government must approve well locations before work begins. This approval has been received for location 6-1. Government authorities have also inspected the location, and will continue to do so. Any and all samples taken are owned and managed by Namibia's Ministry of Mines and Energy.
"ReconAfrica will continue to complete and update as appropriate several required permits for its ongoing work, including all drilling related and other permit requirements. This includes our work directly with the Environmental Commissioner and the Ministry of Environment, Forestry and Tourism (MEFT), the Petroleum Commissioner and the Ministry of Mines and Energy (MME), Traditional Authorities, Community Headmen and Headwomen, community and individual stakeholders, Communal Land Board, Ministry of Agriculture, Water and Land Reform (MAWLR), Ministry of Home Affairs, Immigration, Safety and Security."
Updated at 4:21 pm with comment from Frackfree's Arkert.
Updated on May 19, at 8:25 am with comment from ReconAfrica.
Recommended for you

ReconAfrica pushes back well on data acquisition