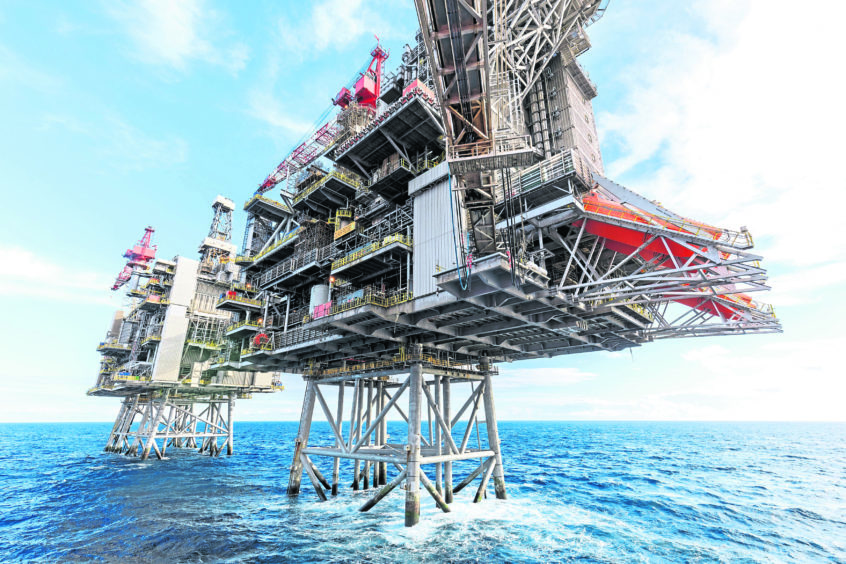 UK oil and gas firms would have to fully electrify the west of Shetland and central North Sea basins to achieve government and industry's green goals, an analyst has said.
But with many "key hubs" in decline, time is running out to make the economic case for electrification, said Neivan Boroujerdi, principal analyst, Europe upstream, at energy research firm Wood Mackenzie.
If the sector can't pull off the feat, fields will have to be shut down earlier than expected in order to deliver a 50% reduction in emissions from operations, Mr Boroujerdi warned.
He said the UK oil and gas sector faced a "tricky balancing act" as it tries to meet "tough" targets outlined in recent government policy papers and the North Sea Transition Deal.
As part of this pact with the UK Government, North Sea industry agreed on earlier emissions reduction targets – 10% by 2025 and 25% by 2027 – building on last year's commitment to reach 50% by 2030.
Earlier pledges from the government to increase hydrogen capacity to 5 gigawatts and deliver 10 million tonnes of carbon capture and storage (CCS) by the end of the decade were also reiterated in the deal.
In addition, Westminster said investment of up to £16 billion in low-carbon technology would be unlocked.
Mr Boroujerdi said near-term targets were "a big step in the right direction", though some are more ambitious than others.
Pledges to phase out routine flaring are "positive", but it accounts for less than a fifth of upstream emissions, he said.
More than 70% comes from processing and production, which could be negated through electrification.
This involves powering installations using electricity from renewable energy sources onshore or offshore, instead of from gas-powered turbines and diesel engines installed on the platforms.
But retrofitting existing platforms would be very expensive and the process was recently described by Steve Phimister, Shell's outgoing North Sea boss, as being "as complicated as open heart surgery".
Woodmac said in a recent study that connecting platforms to onshore power sources was "a challenge", as subsea cabling costs £1-2m per kilometre and many platforms are more than 200km from shore.
New platforms are viewed as more suitable for electrification. But Jersey Oil and Gas warned in March that its plans to power a new platform on the Buchan field with renewable electricity could come at a "green premium" of £80m.
As for some of the other pledges, Edinburgh-headquartered Woodmac said a lack of near-term projects would make meeting the hydrogen target "difficult".
The CCS capacity goal is "achievable" based on projects in the pipeline, but the "timing is tight" as they all have hurdles to overcome before final investment decisions are made.
Mr Boroujerdi said: "Progress is required around funding, carbon pricing and regulation to really kickstart investment and turn the deal into a reality.
"The UK has an opportunity to set its own path with carbon pricing as current EU area prices are not high enough to incentivise low-carbon energies.
"COP26 is likely to come with even more ambitious long-term proposals, but our analysis shows action is required in the short-term."
He said Woodmac's base-case forecast of emissions intensity falls short of the government's supply decarbonisation target of 50% lower emissions by 2030.
Mr Boroujerdi stressed that the case for investment in the UK upstream sector was still "strong".
He said: "While tax revenues have fallen, the sector still makes a significant contribution to the UK's economy, with most spend being incurred locally.
"Even in the greenest scenario, UK demand for oil and gas will outstrip supply."
However, Mr Boroujerdi noted that upstream investment is set to hit a 50-year low and could fall below $1 billion by 2023 unless new projects are sanctioned.
"The government needs to strike the right balance between promotion of net zero initiatives and keeping the sector alive while new energy spend is in its infancy," he said.
Ross Dornan, market intelligence manager at representative body Oil and Gas UK, said industry's targets were "righty ambitious" and could be achieved with help from the transition deal, which will provide the right investment conditions.
Mr Dornan added: "Frameworks laid out in the deal will be critical to helping us reach our goals.
"This will help companies to build momentum in the race to net-zero, and ideally place the UK as a world leader in these types of solutions.
"The correct drive can see us achieve both climate targets and a healthy net-zero economy, supported by the skills and experience embedded in our offshore oil and gas industry."