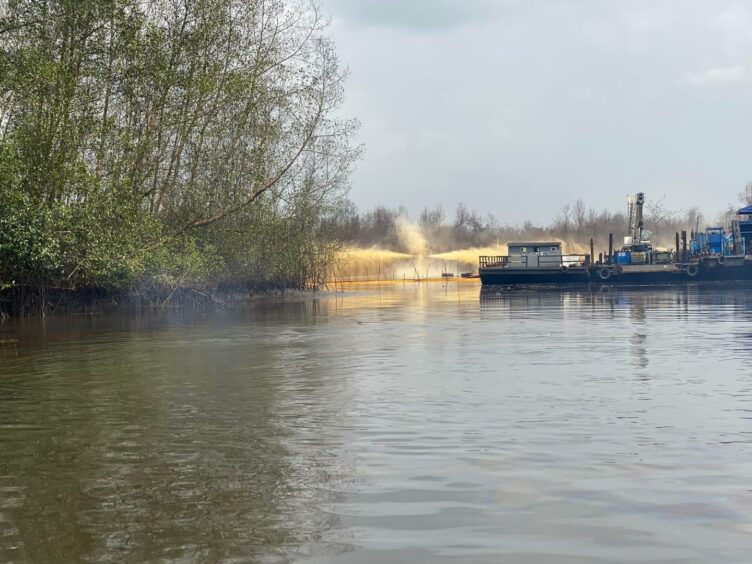 Aiteo Group has managed to halt the leaking well on OML 29, which had seen the company come under fire from politicians and local communities.
A statement from the indigenous company said it had put out the leak at SBAS-1. This is the well on the Santa Barbara South field.
"We have successfully installed control packages on both arms, rig up pump on the long string and pump open the ball valve," it said.
The statement went on to say it had closed both control packages and shut in well flow. It is preparing to pump in kill fluid to the long string, it said, while the short string "is already killed and dead with zero pressure".
In addition to the work on the long string, Aiteo then plans to "rig down" the pump and rig up wireline. It will then install isolation plugs and non-return valves.
"Nipple down Christmas tree and carry out comprehensive service on wellhead and Christmas tree," it said. "Install Christmas tree and secure [the] well and also to clean up [the] wellhead platform and its surroundings."
The well began leaking on November 1. Aiteo has blamed sabotage on the non-functional well.
Now that the well has stopped leaking it will allow investigations to begin into how it began. The National Oil Spill Detection and Response Agency (NOSDRA) has not been able to get close enough to the spill. The risk of explosion made this impossible, a senator said.
The amount of crude spilled is not known. NOSDRA has reported the company has recovered 4,150 barrels of oil and water thus far. Estimates vary on how much there is still to be recovered.
Recommended for you

Bayelsa, NOSDRA clash over Aiteo spill cause