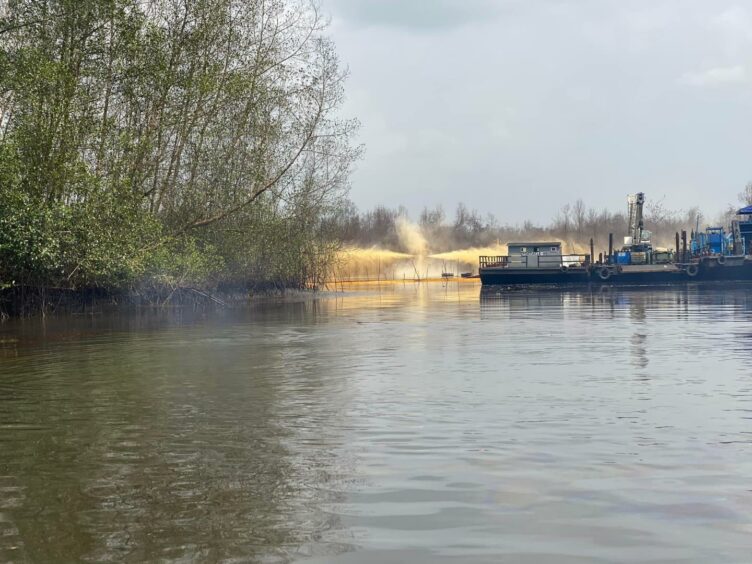 The Nigerian Senate has called for Aiteo to face penalties for its ongoing spill in OML 29.
Senate president Ahmad Lawan said it was important that Nigeria "insist, whether the company is indigenous or international, that it be responsible to communities and to us as a nation". The impact of the Santa Barbara South field spill was devastating, he said, to lives and ecosystems.
"This particular case should be an example of what government and agencies can do to force alleged culprits to remediate the environment, but also to penalise the oil company for devastating the lives of the people in that area, in Nembe," Lawan said.
Senator Biobarakuma Degi-Eremienyo, representing Bayelsa East, brought forward four requests for the legislature to endorse. Aiteo should "urgently seek and deploy the highest level of expertise" to stop the spill and restore damage, he said.
The ministry should revoke Aiteo's licence if the company cannot stop the spill, the senator continued.
Furthermore, an environment impact assessment should be carried out and the National Emergency Management Agency (NEMA) should provide support for local communities.
"The magnitude of this incident is of an extremely high order," Degi-Eremienyo said. While there had been a number of spills in the region over the years, the recent spill was "the first of its kind in this part of the world". The senator put the amount of oil and gas spilled from the well at 2 million barrels.
"This shows a disappointing appearance of technical incompetence on handling the incident by Aiteo. Such a degree of incompetence is sufficient to attract sanctions, such as [licence] revocation," he said.
Environmental impact
The spill is having an impact on the mangrove forest and local fishes. Furthermore, there is a heightened risk of fire, the senator said.
This risk of fire has deterred National Oil Spill Detection and Response Agency (NOSDRA) from getting close to the well site.
Bayelsa State led a media trip to the site on December 7. The well began flowing on November 1. A statement from Bayelsa quoted a company report as saying the well should stop flowing within 48 hours. The statement expressed scepticism over whether this would take place.
"First and foremost, we want this unabated gushing of crude oil and gas to the environment stopped," said Bayelsa Governor Douye Diri. He asked Aiteo and the federal government to "please save our environment and stop the unwanted lives that will be lost as a result of this spill".
Diri went on to call for wider action. Environmental remediation work should not just be applied to Nembe, he said. The whole of Bayelsa needs an action plan. This would "ensure the whole environment is also part and parcel of the clean up. There shall be a clean up, just as the Ogoni clean up even though it is yet to commence."