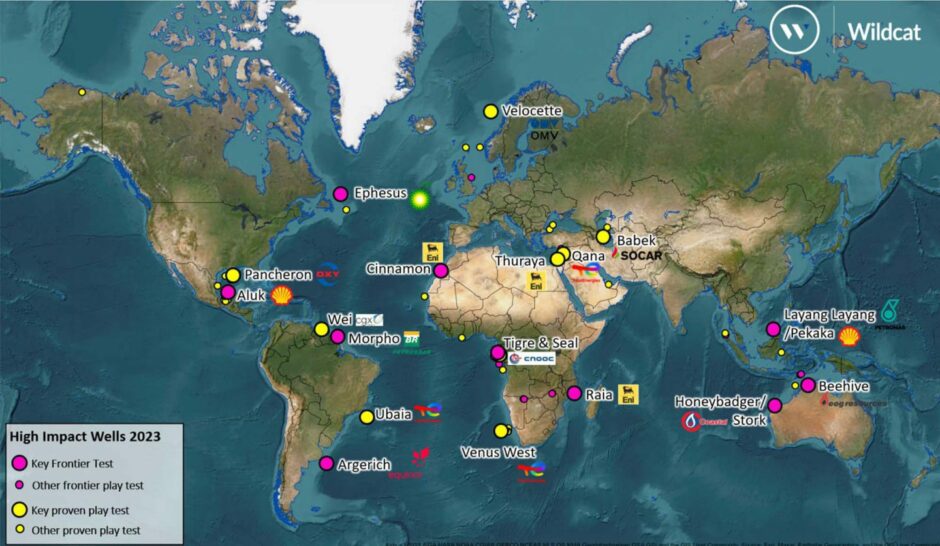 Africa and Latin America will see continued high-impact exploration in 2023, according to Westwood Energy, while Europe, the Middle East and Asia Pacific will see a slight fall.
The consultancy said it expected 75-85 high-impact wells in 2023, in line with drilling since 2020. "Higher oil prices in 2022 have not fed through into more exploration," Westwood said.
Explorers are "taking a measured view and holding budgets and activity steady whilst trying to improve overall exploration efficiency", Westwood said.
One bright spot is likely to be Namibia. TotalEnergies made the Venus discovery in the Orange Basin in early 2022, while Shell made the Graff and La Rona discoveries.
Westwood has given preliminary estimates at these finds of more than 3.5 billion barrels of oil equivalent.
Venus was the single largest discovery of 2022, it said, followed by the Uchuva find, offshore Colombia. It also noted nine commercial discoveries in Guyana and one in Suriname.
Exceptional
Frontier exploration drilling was low in 2022, although successful.
Westwood put commercial success rate at 26%, which it described as "exceptional", from five play opening offshore discoveries. These were Venus, Graff and Uchuva, plus Timpan in Indonesia and Anchois-2 in Morocco.
Companies are working on further drilling in Namibia's Orange Basin, with Shell having already begun. Westwood also noted frontier tests off Morocco, Gabon and Mozambique.
CNOOC is working on plans for its Tigre and Seal wells, in Gabon. Eni is due to drill the Raia-1 in Mozambique's frontier Angoche Basin. The Italian company plans to drill in the Tarfaya block, off Morocco. It also began drilling the potentially huge gas-prone Thuraya in November, off Egypt.
Furthermore, there are five high-impact wells expected in the East Mediterranean this year. Westwood noted the follow on successes off Cyprus, at the Cronos and Zeus wells.
Of the 81 high-impact wells companies drilled in 2022, 9.2bn boe of resources were discovered, according to preliminary estimates. This is an increase from the 7.4bn boe reported in 2021.
Success in the Suriname-Guyana area fed through into the higher commercial success rate in emerging plays. It also gave CNOOC, ExxonMobil and Hess the top ranking in terms of high-impact drilling in 2022.
Recommended for you

Shell, Total appraisals under way off Namibia