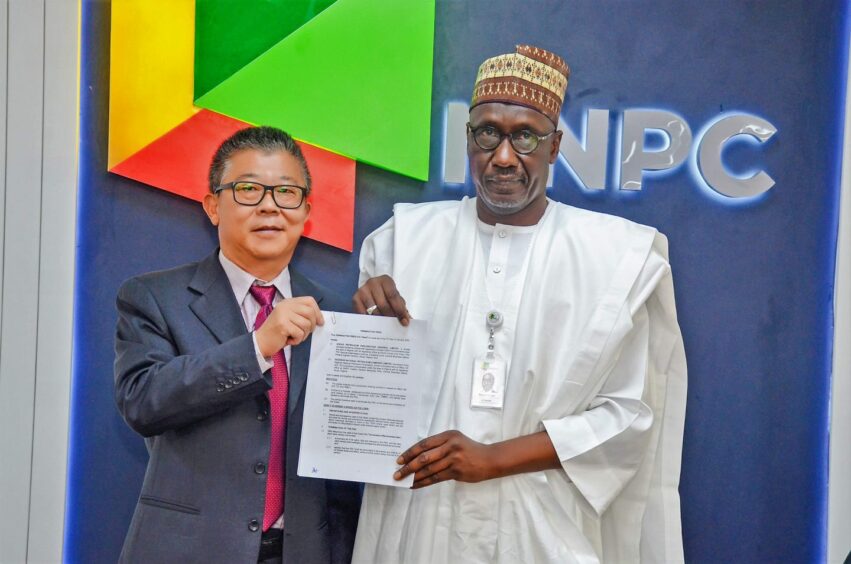 Nigerian National Petroleum Corp. (NNPC) has completed its takeover of Addax Petroleum's four licences in Nigeria.
NNPC's Antan Producing subsidiary will now operate OML 123, 124, 126 and 137, with an effective date of January 31. The company expects to sign a replacement production-sharing contract (PSC), in line with the Petroleum Industry Act (PIA).
A statement said NNPC had worked with various agencies, including the Attorney General, Nigerian Upstream Petroleum Regulatory Commission (NUPRC), Federal Inland Revenue System (FIRS) and the Economic and Financial Crimes Commission (EFCC).
As a result, they agreed the "clean and amicable exit for Addax by resolving all the PSC contractual issues, including litigation".
The transfer will allow "much-needed investments" for the licences, "while prudently conducting petroleum activities and creating value for the PSC, government, and other stakeholders".
NNPC head Mele Kyari signed the agreements with Addax director Yonghong Chen, at the NNPC offices in Abuja.
NNPC said the deal brought to an end Addax's 24 years of work on the licences.
Production plans
Speaking in November, NNPC Upstream Investment Management Services (NUIMS) head Bala Wunti said the company would be able to immediately restore around 10,000 barrels per day.
Nigeria's upstream regulator attempted to cancel Addax's licences in 2021, transferring them to local companies. President Muhammadu Buhari stepped in to halt the transfer. China's state-backed Sinopec owns Addax.
Official sources have said talks began in early 2022 on a more legitimate transfer from Addax to NNPC. NUPRC had advised that a deal be reached as a way to resolve the contractual challenges that had emerged. The two sides reached an agreement in November.
NNPC has appointed Sagiru Jareje to head Antan, the new operator. Jareje has good local content credentials, which is one area in which Addax has struggled.
Templars advised Sinopec and Addax on the deal.
Recommended for you

Nigeria aims to prop up marginal field plans