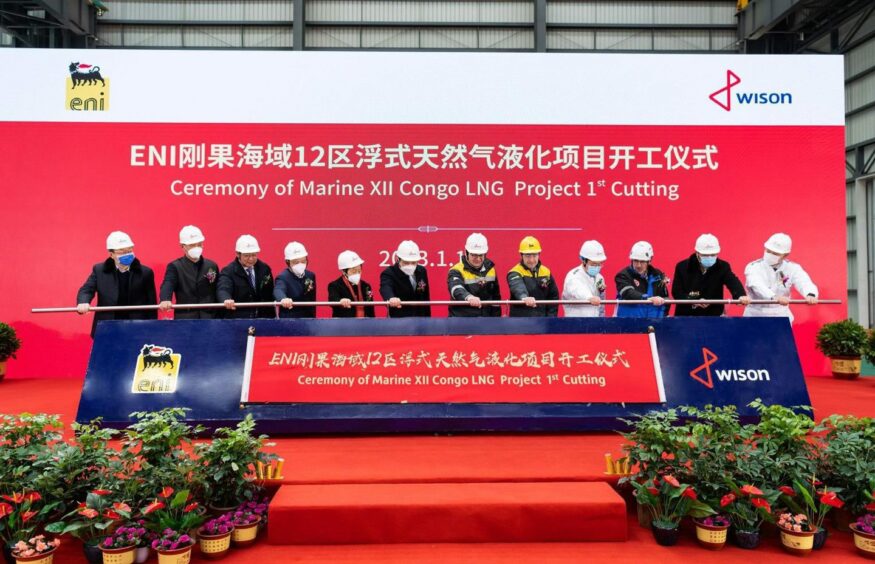 Wison Heavy has begun work on a floating LNG (FLNG) vessel that will be bound for Eni in Congo Brazzaville.
Wison officially began construction on January 17, holding a ceremony while welding began. The vessel will have 2.4 million tonnes per year of liquefaction capacity.
The company said more than 200 people had attended the opening ceremony. In addition to a number of local officials, Wison Group president Liu Hongjun participated, as did Eni project general manager Moreno de Lorenzi.
Financiers were represented, with China Construction Bank, Bank of Jiangsu, Bank of China, Jiangsu Nengda Private Equity Management and China Export & Credit Insurance.
The FLNG vessel will use a submerged swivel yoke system, in around 40 metres of water. The company will install the facility on the Nene Marine field, around 50 km offshore Pointe Noire, on the Marine XII licence.
The vessel can store 180,000 cubic metres of LNG and 45,000 cubic metres of LPG.
Wison's SVP Li Zhiyong said that, since its first delivery of an FLNG unit in 2017, "our teams have worked together for years to summarize experience and lessons, keep optimizing, and fulfil the standardized design of FLNG ahead, which laid an important foundation for today's project. We're looking forward to working with Eni, suppliers and all the partners to deliver an excellent project that we all can be proud of."
The Wison FLNG unit will be Eni's second offshore Congo.
Eni bought the Tango FLNG unit in August 2022 and will install the vessel on Nene Marine in the second half of this year.
FLNG squeeze
Welligence vice president for the region Obo Idornigie noted in a recent report how FLNG projects were gaining increased traction in sub-Saharan Africa.
Idornigie noted that Eni began producing from its Coral Sul FLNG vessel, off Mozambique, in October 2022.
"Several other FLNG projects should start-up over the next few years, as gas resource holders pursue relatively short-cycle and low-cost access to global markets," he said.
In order to meet Europe's current gas crisis, such projects must start up quickly, he said. "The relative geographical proximity to Europe helps underpin the attractive netbacks for SSA's FLNG producers, particularly in the vital pre-2030 timeframe," he continued.
While FLNG is faster to start up than traditional onshore facilities, the supply chain is becoming tighter. Idornigie said this was particularly evident in the vessel construction yards, which "will be a concern for companies hoping to green-light projects in the next 18 months".
Recommended for you

Eni keeps its eyes on LNG growth with Indonesia deal