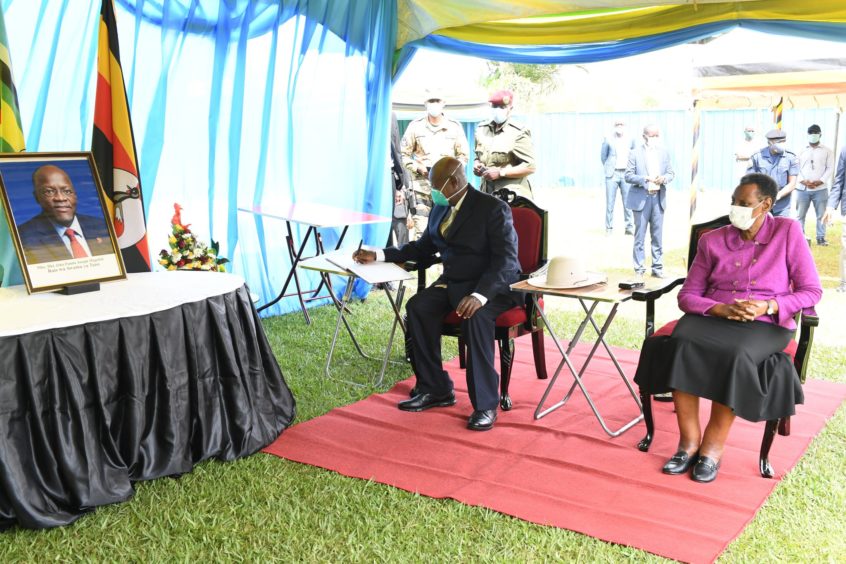 A deal involving Uganda, Tanzania and Total has been pushed back, following the death of Tanzanian President John Magufuli.
Ugandan President Yoweri Museveni announced there would be 14 days of mourning. The president said a three-way deal had been planned to be signed on March 22 in Entebbe.
This suggests the agreement on the East African Crude Oil Pipeline (EACOP) might be signed in early April.
The Petroleum Authority of Uganda (PAU) issued a statement confirming that the Tilenga and EACOP plans had been pushed back to April.
Museveni, and his wife Minister of Education and Sports Janet Museveni, signed a condolence book for the Tanzanian leader at the High Commission of Tanzania in Uganda.
The Ugandan president said Magufuli's death was a "great loss", noting the Tanzanian leader's impact in his own country and beyond.
Museveni also noted that March 22 was the anniversary of the defeat of Idi Amin by combined forces from Tanzania and Ugandan freedom fighters.
"It is a challenge for those who are still alive to continue the struggle as we did in the past because when we lost our comrades we never gave up. And because we never gave up, we succeeded and even this time we shall succeed," he said.
Passing the torch
Magufuli's funeral was held on March 22 in Chato. The president was last seen in public on February 27. According to Kenya's Daily Nation he was flown to Nairobi on March 7-8 but returned to Tanzania on March 11.
Tanzania's vice president – now president – Samia Suluhu appeared on television on March 17 to say Magufuli had died. The Daily Nation newspaper reported he died on March 11.
The official cause of death is heart disease. Magufuli largely denied the impact of COVID-19 but some have suggested he may have died from this.
EACOP will be the world's longest heated pipeline. It will run from Hoima in Uganda to the Tanzanian port of Tanga. It will cost $3.5 billion, with banks expected to provide $2.5 billion.
New president Samia visited the Tanga region last week.
Updated at 3:13 pm with PAU update.
Recommended for you

Activist arrests mar spud of Uganda's first production well