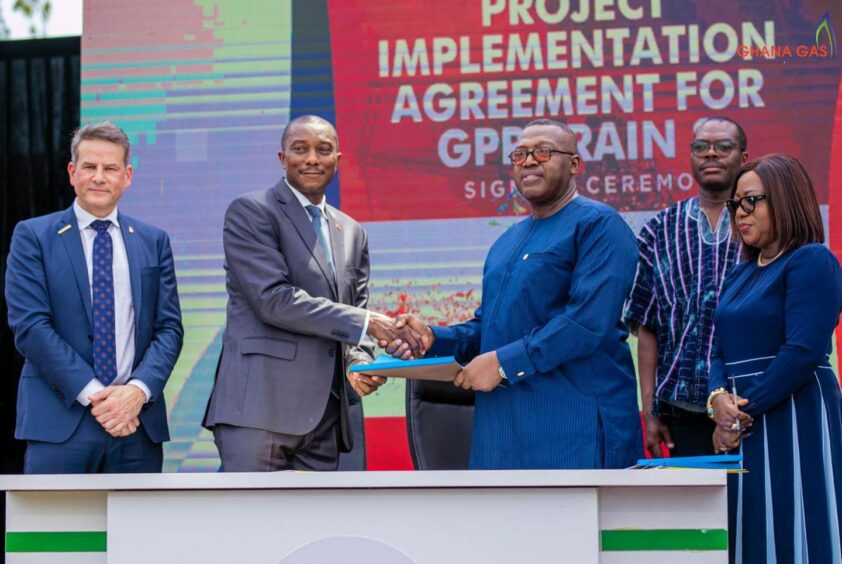 Ghana Gas has signed a deal for a second gas processing train, to handle volumes from Tullow Oil's Jubilee and TEN fields.
The Ghanaian company signed the agreement on February 3. The additional train will have 150 million cubic feet per day of capacity, with the potential to scale up to 300 mmcf.
The new train will also be built at Atuabo, next to the first train. Construction should take 24 months for the plant, which should cost around $700 million.
Ghana Gas CEO Ben Asante signed the deal, with Jonmoore International CEO John Mitchell. The latter represents a team of Integrated Logistics Bureau, Phoenix Park and Africa Finance Corp. (AFC).
Ghana Gas chairman Kennedy Ohene Agyapong, speaking at the ceremony, said the second train was in line with the government's industrialisation agenda.
Asante commented that the plant would help supply gas in a cost effective fashion, securing a "reliable supply of gas and derivatives" in Ghana and beyond.
A 12-inch diameter, 58 km long pipeline carries gas to the existing processing plant at Atuabo. The first train has design capacity of 150 mmcf per day, with Ghana Gas saying its normal operating capacity is 120 mmcf. Atuabo is the starting point for a local distribution network to Takoradi.
The processing train strips out NGLs and various liquids from the TEN and Jubilee wet gas.
Local content
A construction unit of China's Sinopec built the first train, completing the facility in 2014. Ghana Gas took over operations in 2017. The Ghanaian company has pointed to its use of local workers as a major demonstration of its local content drive – in addition to being a money saver.
AFC has not responded to a request for comment on what support it is providing. Sinopec spent $400mn to finance the first train.
Asante, speaking previously, said the 2A and 2B phases at the processing plant would increase capacity to 450mmcf per day. In addition to local supplies, there has been talk of exporting as to Cote d'Ivoire.
Tullow has identified gas at its Ghanaian projects as one driver of new value. The company has said it has 1.5-2 trillion cubic feet of gross gas resources at Jubilee and TEN.
Recommended for you

Tullow targets transformation through debt payments