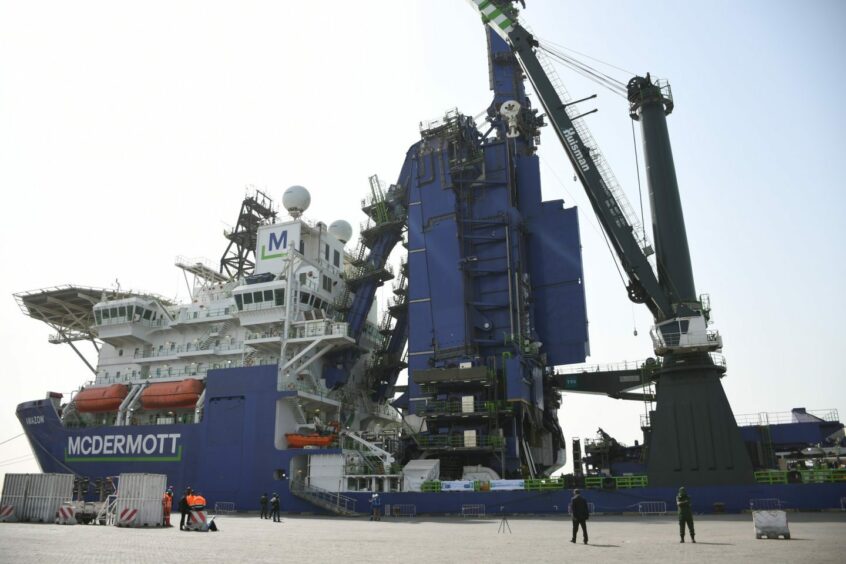 McDermott International's Amazon pipelay vessel has arrived in Mauritania to begin work on the Greater Tortue Ahmeyim (GTA) project.
The vessel arrived in Nouakchott on February 17.
Mauritanian Minister of Petroleum, Mines & Energy Abdessalam Ould Mohamed Saleh visited the ship as it docked and before it headed out to the Tortue field. As of this morning, the ship is on course for the field, according to ship tracking website Marine Traffic.
The minister was briefed on the ship and its plans for the next few months, as it connects deepwater wells with pipelines. He described the arrival of the vessel as an important stage in the field development. Production at the 2.5 million tonne per year facility is on course to begin at the end of this year.
The minister reported progress on the Greater Tortue Ahmeyim (GTA) LNG project was at 90% completion.
Representatives of BP, Kosmos Energy and McDermott held talks with the government delegation.
McDermott won the initial subsea infrastructure connection work in March 2019. The contract covered connections for four of 12 wells, running to the FPSO. The company said the work was worth $500-750 million.
McDermott carried out front-end engineering and design (FEED) on the four wells under a contract awarded in March 2018.
Going shallower
The FPSO for the LNG project sailed away from China on January 23. The vessel is currently moored in Singapore. It will soon heads on to the border of Mauritania and Senegal. The GTA FPSO is due to arrive in the second quarter.
The production pipelines will run to the FPSO, a distance of around 80 km. The FPSO removes liquids – primarily water and condensate – and then exports gas to the floating LNG (FLNG) hub, around 35 km away.
Where the wells are in water depths of 2,850 metres, the FPSO will be in only 120 metres. The FLNG hub will be in only 30 metres of water – and sheltered behind an artificial 1 km long breakwater.
Recommended for you

BP, Kosmos clash over GTA LNG sales