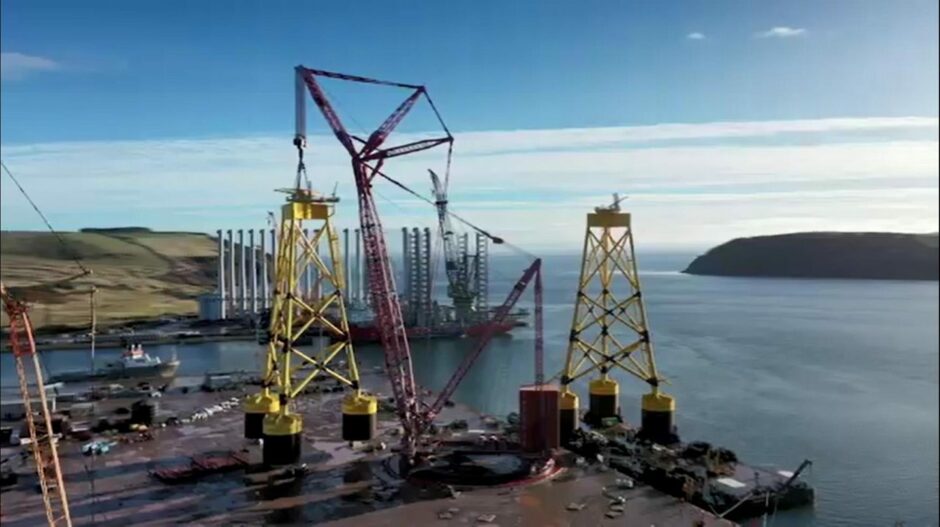 Installation work on Scotland's largest offshore wind farm is entering its final stages, after the remaining jackets for the project were loaded out.
Global Energy Group has shared a video of the last eight, three-legged foundation towers being put onto barges at its Nigg facility, ahead of being transported to the Seagreen site off Angus.
Once operational, the project will become the world's deepest fixed bottom offshore wind farm, and will provide enough clean power for around two thirds of all Scottish homes.
The remaining eight foundation jackets loaded out at Nigg will remain on barges until Saipem's S7000 vessel returns to the Seagreen site in March, following its maintenance outage.
Charlie Morrison, Operations Director at the Port of Nigg, said: "Health and Safety has been at the core of everything we do, and the collaboration between all the various organisations has been a testament to what can be achieved where there is a common goal, clear direction, and sense of purpose."
Seagreen installation work is currently on hold, but developer SSE Renewables insists it is a planned pause and the scheme is still on track for completion in summer.
At this stage, 79 of the project's 114 Vestas wind turbines had been erected, while the vast majority of jacket substructures had been installed.
Seagreen is a joint venture between SSE Renewables (49%) and French energy giant TotalEnergies (51%) (LON: TTE), after the latter acquired a majority stake in the project in 2020.
First power from the £3 billion development, the world's deepest fixed-bottom wind farm, was achieved in August last year, after the first turbine was installed in December 2021.
Global Port Services, part of Global Energy Group, fulfilled the storage, marshalling and logistics contracts for the 114, 95m-tall foundation towers on the South Quay at the Port of Nigg.
Seaway7, a subsidiary of Subsea 7, is responsible for transporting the jackets on barges from the port to site about 16 miles from Angus.
Since the pre-assembly construction project got underway, it has supported more than 100 skilled jobs at the Highlands facility.
Project Director for Seagreen Wind Farm, John Hill, said: "This is the first time that a major infrastructure and pre-assembly contract of its type was brought to the Port of Nigg since the unveiling of the new purpose-built East Quay, so achieving the loadout of the final jackets for Seagreen is a huge achievement and I would like to thank everyone involved for their outstanding work in contributing to the delivery of the project.
"It marks a significant milestone in the project as we enter the final phases of work, our teams will continue to work on the commissioning of the already installed wind turbines as well as progress with the installation of array cables. The installation of jackets and turbines is expected to recommence in early spring following a planned break in the programme for the Saipem S7000 vessel and the Wind Orca."
Recommended for you

Port of Aberdeen hits 100 vessel milestone for offshore wind