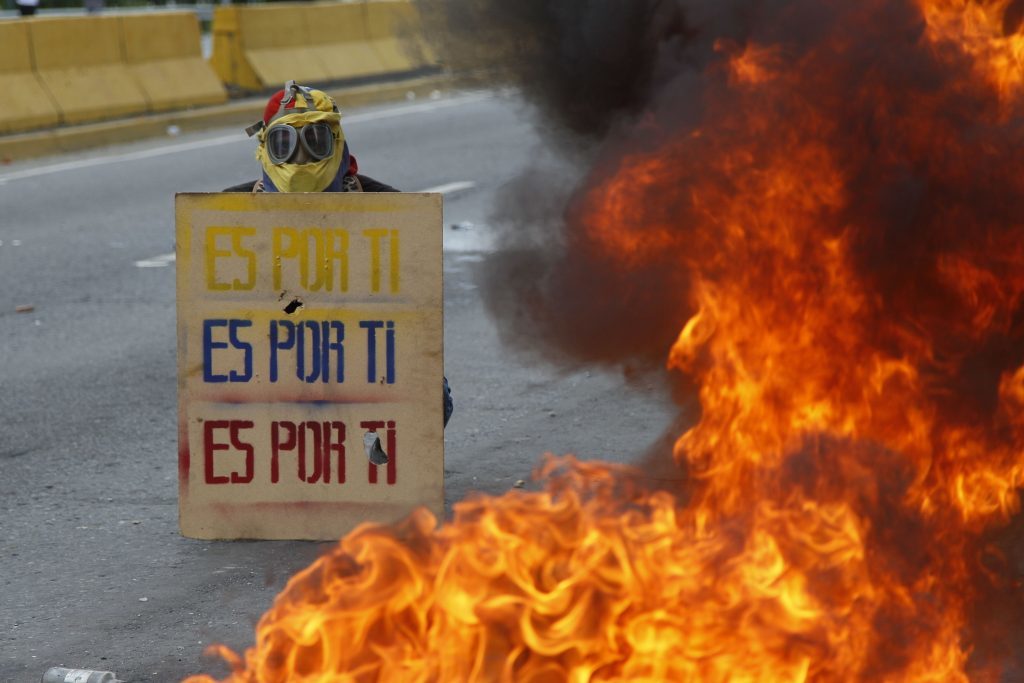 Opposition protests in Venezuela have taken a deadly turn again after a teenager was killed at a march demanding an end to the government's push to rewrite the struggling nation's constitution.
Hours later, the body of a national guardsman was found in a residential neighbourhood in eastern Caracas.
Hundreds of national guardsmen and police officers fired tear gas at protesters a day after Defence Minister Vladimir Padrino Lopez called for members of the military to refrain from excessive use of force.
Videos circulating on social media showed paramedics trying to resuscitate a lifeless young man as he bled profusely from his chest. The office of the public ombudsman, an agency of the national government, tweeted late on Wednesday that an autopsy had determined the youth was struck by a homemade explosive.
Opposition leaders identified the young man as 17-year-old Neomar Lander, and his relatives said he had gone with family members to demonstrate peacefully.
"I'm going to keep fighting," said the teenager's uncle, Mauro Arellano.
Residents banged on pots and pans for an hour in protest as night fell near the site of his death. Stores were closed and streets empty long before dark in a usually bustling part of the capital.
About 1.5 miles away, authorities found the body of William Jose Mendoza, a sergeant with the national guard, Caracas-area mayor Ramon Muchacho said. No details were immediately released on how or where he might have been killed.
"We deplore all violent acts," said Mr Muchacho, who is an opposition politician. "Especially those that put an end to the lives of Venezuelans, as happened with Neomar Lander and this new act."
Confrontations between state security forces and opponents of the social administration appear unlikely to fizzle soon, and nearly 70 people have died in two months of political unrest fed by Venezuela's triple-digit inflation, widespread food shortages and high crime. Demonstrators are demanding a new presidential election.
On Wednesday, President Nicolas Maduro continued his contentious campaign to hold a national assembly to rewrite the constitution. Speaking to military academy students, he again blamed opposition leaders for the violence roiling Venezuela. And as he has previously, he compared assaults on pro-government forces to the persecution inflicted on Jews in Nazi Germany.
Only a few deaths during protests have resulted in arrests, and about half of those cases have been attributed to police.
With the exception of the opposition-controlled National Assembly, the nation's highest institutions, nearly all stacked with pro-government officials, have backed Mr Maduro's call for a constitutional assembly to be elected in July, which he says can help resolve the crisis.
Venezuela's Supreme Court announced on Wednesday that it had deemed inadmissible a request from chief prosecutor Luisa Ortega Diaz for a clarification on how the assembly could be convened.
Opposition members contend such an assembly cannot be elected without holding a referendum first. But the Supreme Court has ruled a referendum is "not necessary, not constitutionally required".
Opposition leaders reported on Monday that demonstrators were being robbed by national guardsmen at protests. One incident caught on video showed a member of the military removing a watch from a woman's wrist.
A day later, Padrino Lopez warned that he did not want to see "one more national guardsman committing an atrocity on the street".
Nonetheless, Wednesday's march followed the pattern seen regularly in near daily protests, with security forces launching canisters of tear gas at protesters to keep them from reaching their intended destination.
On Twitter, Padrino Lopez reiterated his support for the national guard, charging that those claiming repression by the government are the same people who behind the scenes "encourage violence, death and hate".
Recommended for you

Ghana protests prices, while government scrambles on refinery, pipeline