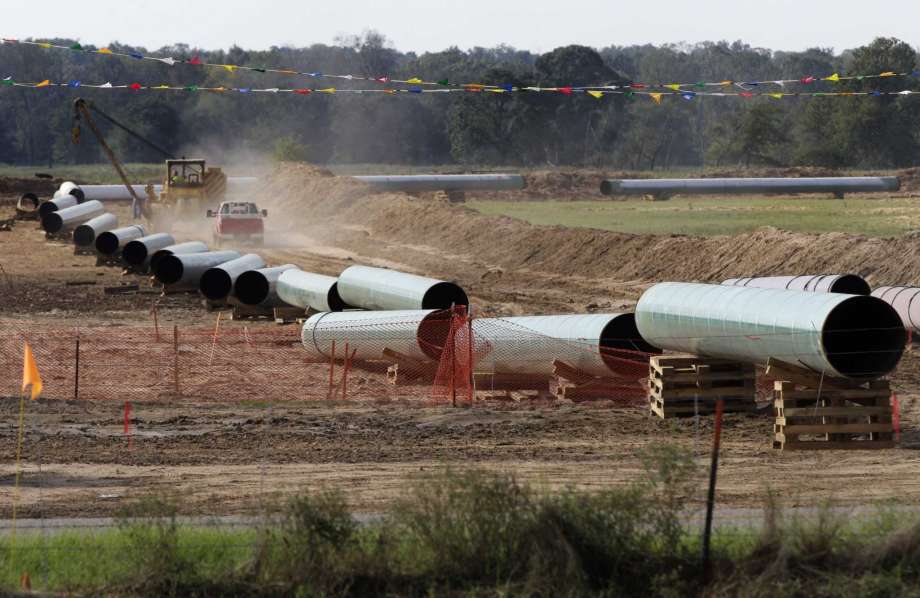 A federal judge in Montana has blocked the construction of the Keystone XL pipeline after finding the Trump administration had failed to conduct necessary environmental reviews.
U.S. District Judge Brian Morris's ruling puts into further question a project that had galvanized the environmental movement and President Donald Trump had made a cornerstone of his bid for U.S. "energy dominance."
In 2015 the Obama administration rejected Canadian developer TransCanada's application to build an 1,000 mile pipeline from the Alberta tar sands fields into the United States on the grounds it would increase greenhouse gas emissions and hurt U.S. leadership in climate change.
In his ruling late Thursday, Morris said the Trump administration had failed to provide evidence showing the pipeline would not do so, violating numerous federal regulations limiting policy changes from one administration to the next.
"The Trump administration tried to force this dirty pipeline project on the American people," said Sierra Club attorney Doug Hayes. "Today's ruling makes it clear once and for all that it's time for TransCanada to give up on their Keystone XL pipe dream."
Asked about the ruling outside the White House Friday, Trump suggested the government would appeal Morris's ruling in the 9th Circuit Court of Appeals in San Francisco.
"Everything ends up in the 9th Circuit," he said, with Marine One idling in the background. "It was a political decision made by the judge. I think it's a disgrace."
TransCanada did not immediately respond to a request for comment.
Were Morris's ruling to hold up under appeal, it could take years for the Trump administration to conduct the necessary environmental reviews.
In the meantime, it's unclear whether the pipeline still makes economic sense today.
TransCanada first filed the application for the $5.2 billion Keystone XL in 2008, when oil prices were over $100 a barrel. TransCanada has yet to say whether it will move ahead on the pipeline, which could deliver more than 800,000 barrels of crude a day to Texas refineries.
This article first appeared on the Houston Chronicle – an Energy Voice content partner. For more from the Houston Chronicle click here.