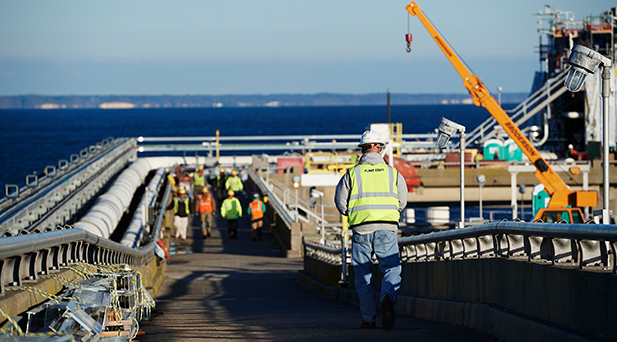 Brookfield Asset Management is to buy a 25% stake in Cove Point LNG for just over $2 billion in cash.
Dominion Energy, the owner of Cove Point LNG, said this was part of its plan to establish a new operating structure.
"The agreement highlights the compelling intrinsic value of Cove Point [LNG] and allows us to efficiently redeploy capital toward our robust regulated growth capital programmes. We are very excited to have a highly respected infrastructure investor such as Brookfield as our partner in this world-class facility," said Dominion's chairman, president and CEO Thomas Farrell.
Brookfield's investment will come via an infrastructure fund, Brookfield Super-Core Infrastructure Partners. The deal gives an implied value of $8.22 billion for the facility, excluding working capital. Proceeds will go for general corporate purposes and reducing Dominion's equity financing needs. The deal should close by the end of 2019.
Cove Point LNG includes an import and export facility on Chesapeake Bay, in Maryland. The plant is connected to the interstate pipeline system by a 136 mile (219 km) link. The facility was established in the 1970s as an import terminal. Construction began in October 2014 on the addition of export capacity, which came into service in April 2018, at a cost of $4.1 billion.
The plant can produce 5.25 million tonnes per year of LNG, with Japanese joint venture ST Cove Point contracted to take 2.3mn tpy for 20 years. Of this, 1.4mn tpy goes to Tokyo Gas while 800,000 tpy goes to Kansai Electric.
J.P. Morgan provided financial advice to Dominion Energy while McGuireWoods served as legal counsel. Brookfield received legal counsel from Kirkland & Ellis.
Dominion set out organisational changes at the beginning of October, ahead of the new financial and operating structure, which is due to come into effect on December 1. The company created two new roles of co-chief operating officer (co-COO).
Diane Leopold was announced as co-COO with responsibility for three operating segments, including the Cove Point LNG facility. The company has made much of its shift towards clean energy and reducing emissions.
Recommended for you
X

Oil Search cuts spending on LNG FEED delays