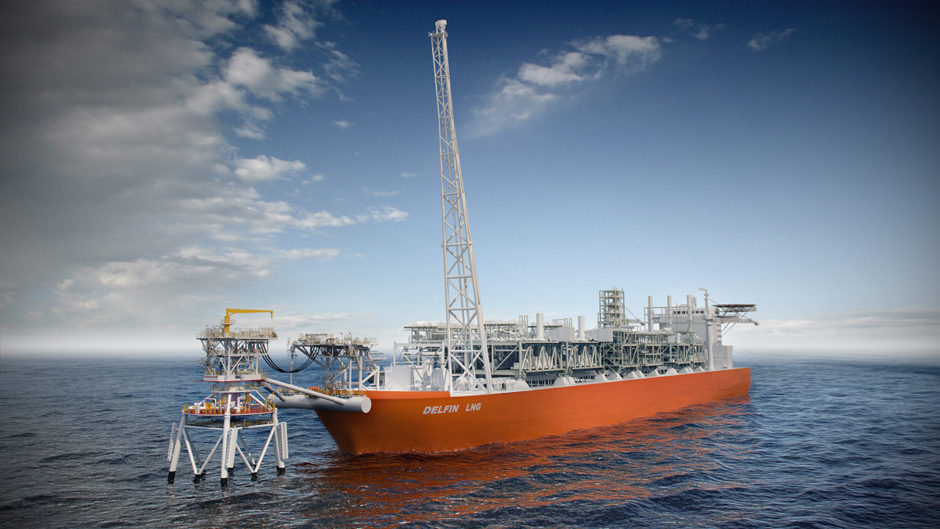 Delfin Midstream is moving ahead with front-end engineering and design (FEED) work on its Delfin LNG scheme.
Delfin began working with Samsung Heavy Industries (SHI) and Black & Veatch in the last quarter of 2018, carrying out pre-FEED work on a newbuild floating LNG (FLNG) scheme in the first half of this year. The FEED work, and a lump-sum turnkey engineering, procurement, construction, installation and commissioning (EPCIC) contract reached by mid-2020. A final investment decision (FID) is expected to come in 2020.
The company said production costs from its FLNG scheme, which would use existing pipelines, would be around $500-550 per tonne of LNG capacity. The vessels would have total capacity of 3.5 million tonnes per year. Delfin said its existing pipelines and supply capacity would be "ample" for "the first" two to three FLNG vessels.
The Delfin project would have space for four FLNG slots, giving a total of 13mn tpy of LNG capacity. A second project, Avocet, would have up to 8mn tpy of potential. Each of the vessels can be developed with its own financing plans and structures. The range of options includes different price models, such as Henry Hub linked or tolling, with terms from 10 to 25 years. At the company level, plans could be developed through integrated agreements or joint ventures, with offtakers, producers and traders potentially involved.
"Since the Delfin FLNG vessels are not producing from a reservoir, but purely liquefy standard 'pipeline quality gas', these FLNG vessels lend themselves for low-cost and standardised solutions. Working with SHI and Black & Veatch, collaboratively offering a complete EPCIC wrap, enhances the robustness of our projects and marks another important step forward in the LNG industry," said Delfin's COO Wouter Pastoor.
Delfin asked the Federal Energy Regulatory Commission (FERC) for an extension in June, in order to allow it to develop onshore facilities. According to a FERC letter, Delfin said the engineering work and commercial arrangements had made progress on the FLNG plant "slower than originally anticipated" because of their complexity.
The company asked for an extension to bring the onshore facilities into service by March 2023. FERC gave it until September 2020. The onshore works would be in Louisiana's Cameron Parish, while the FLNG vessels would be moored around 40 miles (64 km) offshore in federal waters.
Building projects in the offshore is seen as being faster to secure permits and with lower construction costs, as the vessels can be put together elsewhere – probably China or South Korea – and moved into position.
Delfin is not the only company working on offshore LNG plans in the US. West Delta LNG is also making plans for a six train plan, also in federal waters offshore Louisiana, with capacity of up to 6.1m tpy. West Delta LNG is working on a platform-based liquefaction process, with Wood having carried out FEED work on the project.
Recommended for you
X

Aramco to trade on Saudi exchange in December, Arabiya Says