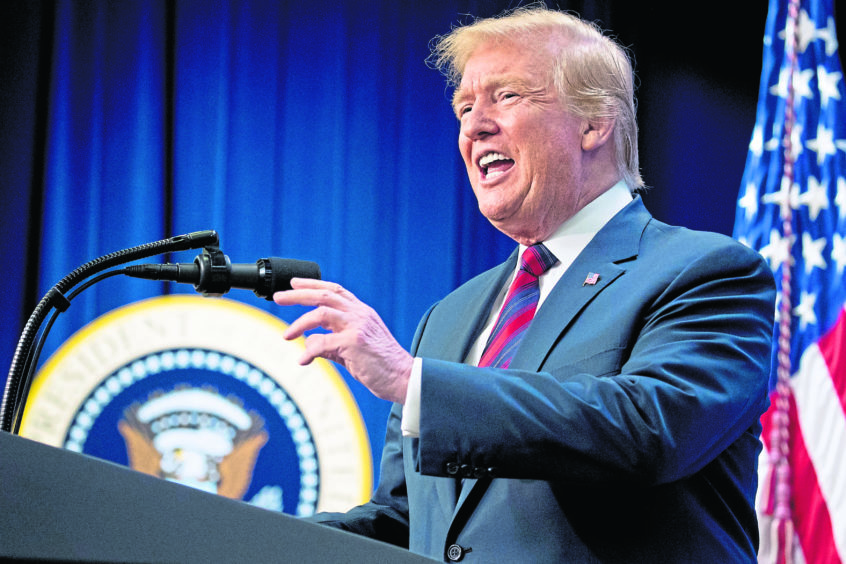 President Donald Trump on Monday downplayed "phony polls" showing a tight presidential race in Texas, saying he's way ahead because he "saved the oil industry," and later adding, "I created it."
"We're doing well in Texas," Trump said during a roundtable discussion at the White House with Americans who say they were helped, and in some cases saved, by police officers.
"I read where I was one point up in Texas," Trump said. "I'm not one point up in Texas, we're many points up — I saved the oil industry, two months ago I saved the oil industry."
The president continued: "I created it. We became No. 1. We have millions of jobs and we saved it so Texas is not going to have to let go of millions and millions of people."
Trump did not specify what he did to save the industry, which has seen multibillion dollar losses and nearly 100,000 layoffs during a massive downturn sparked by the coronavirus.
"We're at $40 dollars a barrel and yet you can buy gasoline for under $2 — nobody's ever seen it like that," the president said.
While the price of oil has rebounded to $40, it remains too low for most producers in Texas shale oil fields to turn a profit.
"We're No. 1 in oil as you know, oil and gas — by far. We're now No. 1 in the world," Trump said. "And we would've had millions of people out of work. I saved it. And then they said I'm leading by one point in Texas."
"To think that after saving the oil and gas business and millions and millions of jobs, I'm leading Texas by one point? I don't think so."
Though no Democratic presidential candidate has won Texas since Jimmy Carter in 1976, early polls have shown President Donald Trump and former Vice President Joe Biden tied in Texas.
Trump has been a vocal booster for the oil industry, and has had some successes in aiding the industry through the downturn, including working with Saudi Arabia, Russia and other members the OPEC+ group to win a 10 million barrel per-day cut in crude production.
Still, the president has struggled to get aid to an industry suffering under an unprecedented drop in energy demand due to the coronavirus pandemic.
"Poll after poll shows the same result: Texas is the biggest battleground state and Trump is in a dogfight with Joe Biden in the state," said Abhi Rahman, a spokesman for the Texas Democratic Party. "Texans are experiencing the cost of Donald Trump's failed leadership across the state. None more so than the oil industry, which has suffered record lows and continues to lay off Texans everyday."
This article first appeared on the Houston Chronicle – an Energy Voice content partner. For more from the Houston Chronicle click here.
Recommended for you
X

Oil and gas drilling set for 'staggering' 20-year low - Rystad