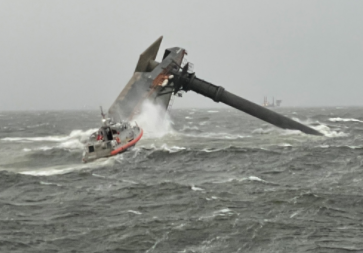 One person is dead and rescuers are still searching for 12 missing people after a vessel capsized in the US Gulf of Mexico during a storm on Tuesday afternoon.
The US Coast Guard said yesterday that six people had been rescued with the help of civilian boats.
Coast Guards said the incident took place 8 miles off Port Fourchon, Louisiana, and involved a "distressed 129-foot commercial lift vessel".
#UPDATE #HappeningNow the @USCG & multiple #goodSamaritan rescue 6 people and searching for more from capsized vessel 8 miles south of #GrandIsle, #Louisiana

For more information visit our #newsroom https://t.co/e7YE3JMVaw#Ready, #Relevant, #Responsive pic.twitter.com/ThBhIn5fQT

— USCG Heartland (@USCGHeartland) April 14, 2021
The New York Times (NYT) reported that the capsized vessel is the Seacor Power lift boat, owned by Houston-based Seacor Marine.
NYT quoted a Seacor spokesman as saying that 18 people were onboard the vessel when it flipped over.
A Coast Guard fast response cutter arrived within 30 minutes and rescued one person, while a second response boat found a second.
Four people were pulled out of the water by civilian vessels which are assisting with the rescue mission.
A helicopter and an airplane were also deployed.
In an update published on Wednesday evening, the Coast Guard organisation said that one "unresponsive person" had been found, but that it was still searching for 12 missing people.
This indicates that the number involved is at least 19.
The US Coast Guard said rescue crews had searched more than 1,440 square miles, during a combined search period of nearly 40-hours.
Captain Will Watson, commander of Coast Guard Sector New Orleans, said: "Our rescue crews have been diligently continuing the search and rescue efforts for the missing people from the capsized vessel.
"When it comes to search and rescue, each case is dynamic and no single case is the same as the next. Anytime our Coast Guard crews head out for search and rescue, it is always our hope to safely bring those people back and reunite them with their friends and families."
Lift boats are commonly used in the Gulf of Mexico to support drilling, construction and oceanic exploration operations.
Recommended for you

Pipelay vessel assists search for missing Titanic submarine