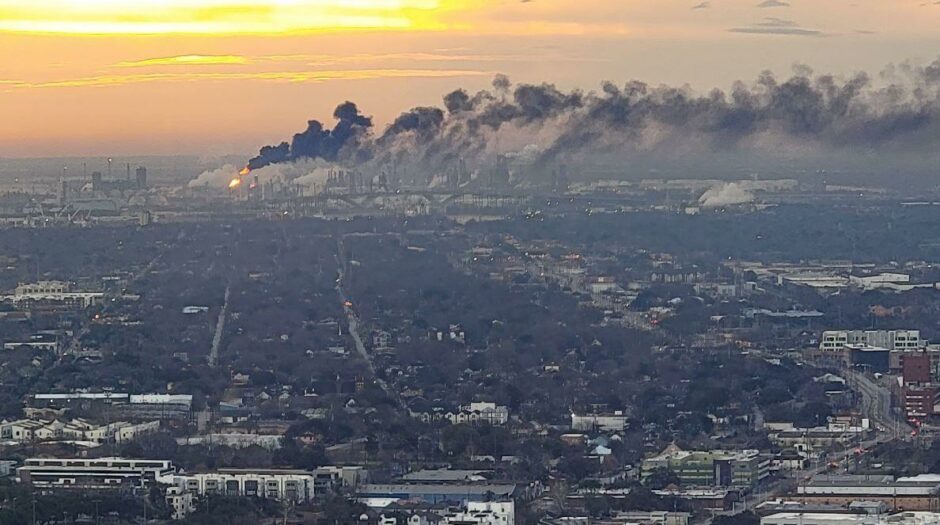 Black smoke spewed across Houston's industrial suburbs for more than an hour on Monday morning, just days after a winter storm knocked out power at several of the nation's largest oil refineries.
Although it was not immediately clear where the smoke was coming from, it appeared to be from Valero Energy's plant east of downtown, according to a Coast Guard official. The plant had been completely shut down as of Monday morning, according to Wood Mackenzie.
The refiner was in the process of restarting some units over the weekend and said it had notified emergency management officials of plans to flare "excess material." A Valero spokesperson declined to comment further when asked if the smoke was from its operations. The area is also home to a host of chemical plants, plastics factories and other industrial producers.
Flaring by Houston-area refiners is fairly common when shutting down or ramping up, but it typically doesn't result in significant plumes. The large orange flames and thick smoke had largely dissipated by 9 a.m. local time before billowing up again around 10:45 a.m.
Valero's Houston plant isn't the only refinery down following last week's damaging winter storm. Marathon Petroleum's massive oil-processing complex near Galveston Bay remained offline Monday after parts of the region went dark during the recent Texas chill. Gasoline prices jumped while the spread between fuel and crude futures widened — telltale signs of tightening supplies.
The outages at the Valero and Marathon plants may strain fuel supply chains already tightened by seasonal repairs that required some peers to curb output, as well as a surge in post-pandemic energy demand. Marathon's refinery may not return to normal operations for weeks, according to people familiar with operations.
The power and refinery outages lay bare the fragility of the Lone Star state's energy infrastructure nearly a year after a historic freeze paralyzed Texas, killed more than 200 people and created a hot-button political issue for Governor Greg Abbott.
The refining industry along the U.S. Gulf Coast was running at just 86% of capacity as of Jan. 28, a reflection of a heavy schedule of maintenance work. And that was before the Arctic blast that disrupted power supplies for industrial users and homeowners across parts of Texas and Louisiana.
The premium commanded for Gulf Coast wholesale gasoline relative to New York-traded futures contracts soared to a two-month high. Pump prices were up almost 3% statewide compared with a week ago, according to AAA. They could be headed higher because hiccups in the wholesale market tend to flow through to filling stations within a few days.
Recommended for you

Cuba oil depot blaze threatens to aggravate island's economic crisis