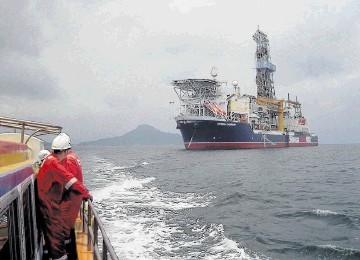 ExxonMobil's Bulletwood-1 well offshore Guyana found reservoirs but no commercial hydrocarbons.
Westmount Energy, which has an interest in the Canje block via JHI Associates, said data collected from the well revealed the Guyana-Suriname Basin petroleum system.
Exxon will follow the Bulletwood-1 well with two more wells this year. The company will drill the independent Jabillo-1 and Sapote-1 prospects in the "coming months".
Westmount said earlier this week that the Stena Carron drillship was moving off the Bulletwood-1 site and into the Stabroek block.
The Stena Carron spudded the Bulletwood-1 on December 31, 2020. It drilled the well in water depth of 2,846 metres with a primary Late Cretaceous, Campanian age target. The drillship reached the planned target depth of 6,690 metres.
Exxon operates the Canje block via its Esso Exploration and Production Guyana unit, which has a 35% stake. Total has 35%, JHI 17.5% and Mid-Atlantic Oil & Gas 12.5. Westmount has a 7.7% stake in JHI.
The latter company farmed out equity to Total in 2018. The French company will carry JHI for up to four wells, including Bulletwood-1.
While this well may have disappointed Exxon, the super-major made it clear in its investor day on March 3 that Guyana was central to its plans. Its success rate in the area has been around 80%, from 18 wells, and it expects to reach production of 750,000 barrels per day by 2026.
Exxon intends to start the second phase of Liza in 2022 and Payara in 2024. A sixth floating production, storage and offloading (FPSO) vessel will start in 2027.
The company said it was "testing play extensions in 2020-21". It singled out Canje, Kaietur and Suriname as having demonstrated reservoirs and hydrocarbons.
Recommended for you

Chevron tees up Aphrodite plan, as ministers talk maritime borders