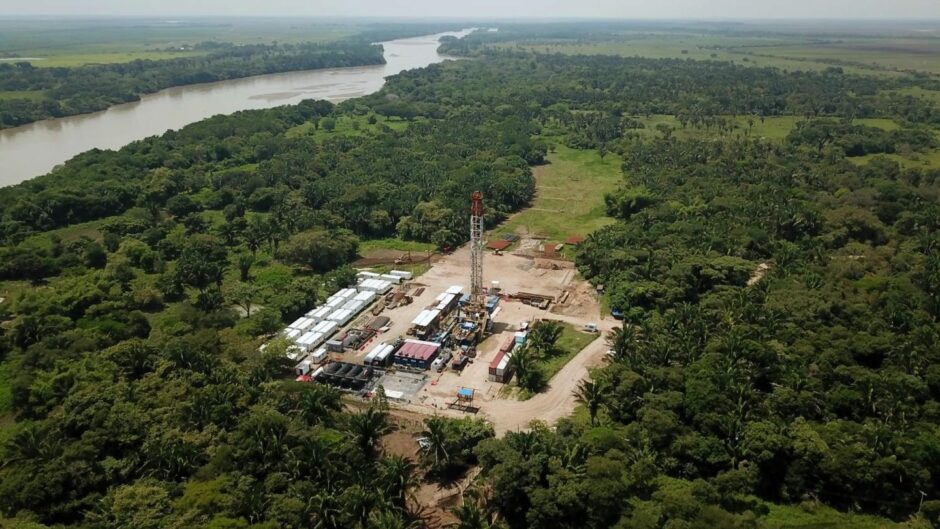 Arrow Exploration has "line of sight" on producing 10,000 barrels per day, tripling current production as it aims for expansion in its Colombian assets.
At the heart of the company's plans is its Tapir block, in the Llanos Basin, covering around 260 square km. The licence is currently producing over 2,000 bpd, roughly two thirds of the company's 3,000 bpd total.
By the end of the year, Arrow intends to drill five more wells on two different structures, with three recompletions. The Tapir block holds the Carrizales Norte and Rio Cravo Este (RCE) fields.
"We're in good shape," Marshall Abbott, CEO of Arrow, told Energy Voice. "We have no debt, around $11.5 million of cash and $2.5mn cash flow per month," he said.
It is the geology of the Llanos Basin that has excited Abott – and others. "These wells are like nothing I've ever drilled," the CEO said.
"We're well positioned to see significant gains in production. On the lands that we have now, we can achieve 10,000 bpd." Carrizales Norte will provide the bulk of this increase, followed by the RCE field.
Into action
Arrow is pinning its plans on horizontal drilling. There is technical capacity in country, while the company is designing wells in its home base of Calgary.
A horizontal well costs 1.5 times that of a vertical, but provides three times the rate and three times the total production.
The cost of drilling a horizontal well is around $6 million, so six of these would be around $36mn, of which Arrow must cover half the costs. "That's seven months cashflow," Abbott said.
"Steering these well bores is straightforward," Abbott said, using a special tool behind the bit that provides information on its location. "We think we can steer the well bore to the top of the zone." The company will need deft piloting, with three right-angle bends proposed.
Arrow also plans to use inflow controls, a new addition to the horizontal drilling sector, to keep pressure consistent across the well. "We're still working on costs, the first crack at costing was a little high so the boys are sharpening their pencils."
Logistically, Colombia is well supported with regular flights from North America and ease of movement through customs.
There are a number of formations of interest to the company's operations, including the Ubaque and Gacheta.
Drilling in
One point of concern for Arrow was at the CN-3 well, where it reported water breakthrough. Abbott said the reservoir was so good it had taken a "big drink" from the casing slurry in the wellbore. "As a result, there wasn't enough water in the cement mix and it became desiccated. It's a rather extraordinary result."
Arrow is modifying its cementing plans, he said, but the company is also unlikely to drill any more vertical wells on the field.
This week, Arrow reported testing at the CN-3 well had produced at 1,149 bpd gross, from the C7 formation. The company has turned off its electric submersible pump (ESP) and allowed the well to flow naturally, with a target of 640 bpd.
Now, the rig has moved on to the RCE field. There, it will drill two wells dedicated to the Gacheta formation and follow up the RCE-6 well.
Once this is complete, the rig will move back to Carrizales Norte for horizontal drilling. The first of these wells, targeting the Ubaque formation, will come in early 2024. Arrow plans to drill six wells in the Ubaque in this campaign.
There is scope for further finds in the Llanos Basin licence. Arrow acquired 3D seismic with some "very exciting" results. The company now plans to drill some low-risk exploration wells in 2024 with a second rig, just north of the Carrizales Norte field.
It "looks identical in its morphology", Abbott said. "We look for a major fault that has a couple of kinks in it, that act as a trap. With a three-way closure against that fault, you have a 90% chance of success that it's oil," Abbott said.
Brown bear
Two of the five wells planned for this year, Arrow will drill on the Oso Pardo licence. The company has applied to the government to expand this block, with Abbott due to have talks with regulator Agencia Nacional de Hidrocarburos (ANH) in a couple of weeks. The aim is to make progress there in the next two quarters.
Oso Pardo is in the Magdalena Basin, with three wells drilled on the field by Canacol Energy. This is Arrow's largest shareholder with a 17.8% stake.
Arrow has a plan to increase production from this "brown bear" to 4,000 bpd, with up to 20 wells. The company has been working on the project four years ago. "The technical group likes it, the environmental group likes it, only the legal part is a little sticky".
Colombia elected President Gustave Petro in 2022, a former rebel who has talked of moving the country away from oil.
At the same time, though, with 900,000 bpd of production, this is the country's largest single source of revenues.
Every country has aboveground risk, the Arrow CEO said, and Colombia is no different.
Petro has highlighted three priorities, Abbott said. The environment, the energy transition and proper governance of operations in the field.
Far superior
Arrow has taken steps to employ Colombians and is moving towards solar power for its pumps. "We do our best to include members of the community," Abbott said. "We're taking care of people."
While Colombia's administration has become more left wing, there have been only small changes to the tax code – at least as far as Arrow is concerned. "The royalty regime in Colombia is far superior to Canada," he said, with rates of 12% on crude, versus 40% in Canada.
"If you're very successful [in Colombia] you could pay more tax but as long as you're drilling and you're active, you defer income tax. So far, we operate tax free."
The business has been good for Arrow. The company sells its oil at the wellhead, insulating it from transportation challenges. At recent Brent prices, Arrow's netback is "close to $75 per barrel. That takes cash flow well north of $3-3.5 million."
Furthermore, unlike some countries, there are no challenges on exporting revenues. Arrow receives payments in advance for its crude straight to its foreign bank account.
Arrow has no need to raise cash for its drilling plans. However, the CEO said there were "deals to be done" in the Llanos Basin. An opportunistic acquisition in the company's heartland would likely involve raising equity from UK shareholders. "The UK has been very good to us."
Recommended for you

Jadestone builds confidence at Montara and looks ahead