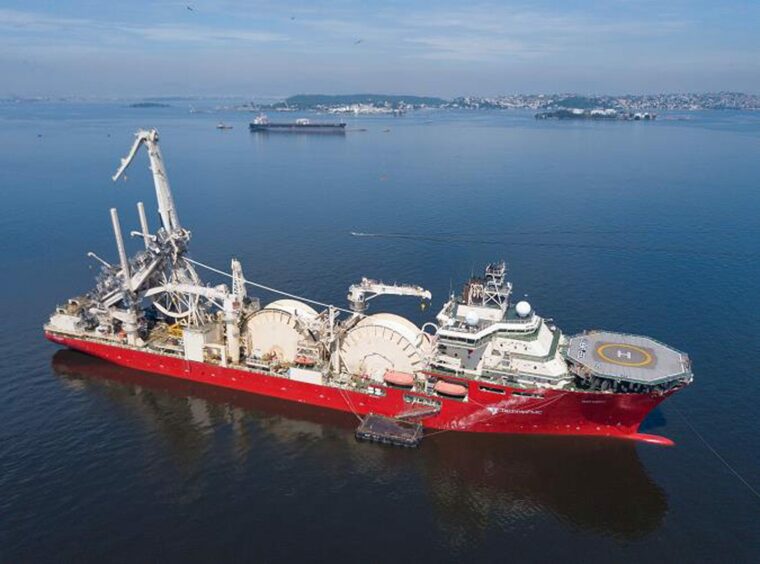 TechnipFMC's Deep Energy vessel is assisting in search efforts for a submarine which went missing on an expedition to explore the wreck of the Titanic off the Canadian coast.
The French-American offshore services group said its pipelay vessel arrived at the famous wreck site this morning to help support search and rescue efforts for the Titan submarine, which disappeared on Sunday with five people on board.
The research vessel Polar Prince lost contact with the crew of the submarine nearly two hours into its dive, at a location around 900 miles off the coast of Cape Cod, and 400 miles from Newfoundland.
According to submarine owner OceanGate, the Titan craft has life support systems which would enable it to remain underwater for up to 96 hours.
The company operates a fleet of five-person submersibles capable of reaching depths of up to 4,000m.
In a statement to the BBC, TechnipFMC said it was assisting efforts "being led by the United States Coast Guard with support from the Canadian Coast Guard."
#Update A Canadian Aircraft P3 Aurora has arrived on scene to conduct sonar searches.

The R/V Polar Prince and R/V Deep Energy are continuing their surface searches.

Total search area completed as of this morning is 10,000 SQ miles.#Titanic

— USCGNortheast (@USCGNortheast) June 20, 2023
Constructed in 2013 and flagged in the Bahamas, Deep Energy is described by its owner as one of the largest and fastest pipelay vessels ever built.
It specialises in installing flexible pipe and umbilicals in water depths of up to 3,000m via a reel-lay method.
With a transit speed of 19.5 knots, significant storage capacity and an abandonment and recovery system rated to 500 tonnes, TechnipFMC says it is designed to operate in the North Sea and other regions.
On board it also hosts two remotely operated vehicles (ROVs), capable of operating at up to 3,000m.
However, the wrecked ship lies at around 3,800m, and experts have suggested if the Titan craft has sunk to the sea floor there are few rescue craft that would be able to reach it.
A French vessel, The Atalante, is also en route and expected to arrive within the search zone on Wednesday, according to the country's maritime ministry.
The vessel is also equipped with a deepsea robot which could be used in the search.
Recommended for you

TechnipFMC wins more Girassol work from TotalEnergies