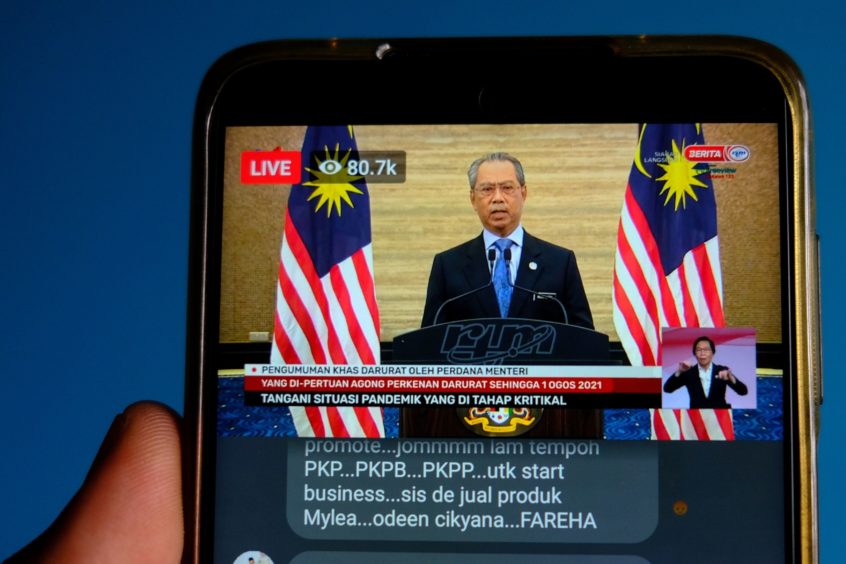 Beijing is expected to keep harassing oil and gas operations in disputed areas of the South China Sea this year, particularly offshore Malaysia.
Although China wants to expand economic ties with Malaysia and maintain cordial relations, it will continue to harass oil and gas activities in Malaysian waters in an attempt to coerce Kuala Lumpur into signing joint development agreements, Ian Storey, a senior fellow and Asian security expert, at the ISEAS Yusof Ishak Institute in Singapore, told Energy Voice.
However, "Malaysia will not accommodate China's desires, at least for the short term," added Storey.
Malaysia's South China Sea policy will remain unchanged in 2021, said Storey. Since the early 1990s, successive Malaysian leaders have adhered to the same policy: defend the country's territorial claims within its exclusive economic zone (EEZ); monitoring Chinese naval and coast guard activities in the same area; and making sure that the issue does not become a thorn in Malaysia-China relations by pursuing quiet, behind the scenes diplomacy with Beijing.
Besides, Malaysian Prime Minister Muhyiddin Yassin will be preoccupied with attempting to consolidate political power and ensuring his fragile coalition government survives, but also trying to contain the COVID-19 pandemic, said Storey.
"Prime Minister Muhyiddin has his hands full with a domestic state of emergency and ongoing political turmoil. The last thing he wants is an escalation of bilateral tensions with China in the South China Sea," Hugo Brennan, an Asia analyst at geopolitical risk consultancy Verisk Maplecroft, told Energy Voice.
Significantly, China is likely to harass any Malaysian vessels carrying out oil and gas activities within its sweeping claim to most of the South China Sea within its U-shaped 'nine-dash line', as was the case several times last year, added Brennan.
Since 2013, the Chinese Coast Guard (CCG) has maintained a near continuous presence at Luconia Shoals off the Malaysian state of Sarawak. The area hosts significant hydrocarbon deposits and fisheries. The former is particularly important to Kuala Lumpur as a lucrative source of income.
In late 2019 and early 2020, the CCG upped the ante in the area by trying to disrupt Malaysian survey and drilling activities by harassing Malaysian-chartered drilling rigs, supply ships and survey vessels.
Indeed, the Asia Maritime Transparency Initiative (AMTI) reported that "the COVID-19 pandemic has had no discernible effect on the presence of the China Coast Guard in the South China Sea."
Beijing has continued to deploy its coastguard around symbolically important features at the edges of the nine-dash line on an almost daily basis, just as it did in 2019. And has also appeared to increase the frequency of patrols during the pandemic, added AMTI.
One noteworthy addition to the regular CCG patrol route since July of last year was around the Vanguard Bank off Vietnam's southeast coast. "The submerged bank is near the site of a months-long standoff between China and Vietnam over oil and gas drilling in 2019. It had gone quiet until CCG vessels began persistent patrols in July," said AMTI. That coincides with Vietnam's decision to cancel planned drilling in Rosneft's Block 06-01 – the site of the 2019 standoff.
Persistent CCG patrols around the bank continue to veer off around Block 06-01. "This is similar to the CCG's long-standing pattern at Luconia Shoals, which frequently includes patrols of nearby oil and gas fields," said the AMTI.
"Southeast Asian claimants largely refrain from deploying law enforcement or naval vessels to contest these routine patrols. This suggests that China is successfully normalising its presence. One recent exception was Malaysia's deployment of the patrol vessel KD Kelantan to Luconia Shoals on August 29, which appears to have encouraged the departure of the 5403, the CCG vessel on station at the time," reported AMTI.
"But the effect was only temporary: a Chinese ship returned to Luconia in November and is currently harassing oil and gas activity in the area. Given the presence of important energy resources and the vulnerable DK1 platforms at Vanguard Bank, whether Hanoi will more actively contest the CCG's newest patrol route bears watching," added AMTI.
Moreover, it will be interesting to observe if China ups the ante even more this year, particularly as global geopolitical strategies are recalibrated.
"Beijing is likely to probe the Biden administration for weakness early on and the South China Sea is one of several possible fronts in which to do so," cautioned Brennan.