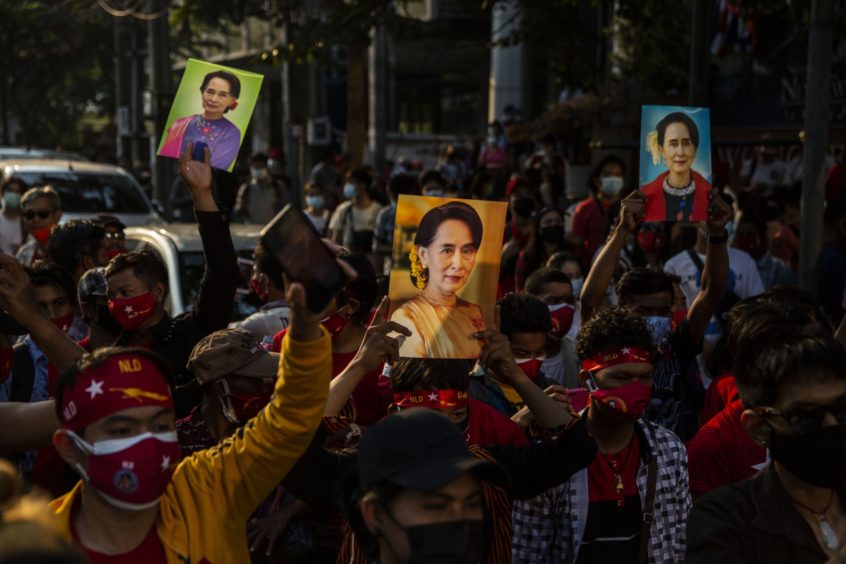 Australia's Woodside Energy is reducing its presence in Myanmar and expects to fully demobilise its offshore exploration drilling team over the coming weeks following reports of human rights violations in the Southeast Asian nation.
Myanmar has been in turmoil since a coup on 1 February, which has resulted in continuous demonstrations and a civil disobedience movement against the military government that seized power. "Reports of violence against the Myanmar people participating in peaceful protests are deeply distressing," Woodside said late Friday.
"We have watched with growing concern since the events of 1 February 2021. Woodside supports the people of Myanmar and we hope to see a peaceful journey to democracy," added the company.
Woodside appears to have done an about-turn after being heavily criticized for its earlier stance following the coup. Human rights groups and industry executives slammed Woodside's previous determination to proceed with a major gas development and exploration campaign in Myanmar following the month-old coup and subsequent bloody protests.
Military forces in Myanmar opened fire on crowds of peaceful demonstrators in several cities on Sunday, killing at least 18 people, the United Nations said, in a violent escalation of the security force's efforts to suppress weeks of mass protests against the coup.
Woodside does not have any producing assets in Myanmar, nor does the Perth-based company currently generate any revenue in Myanmar.
"Until we see the outlook for Myanmar and its political stability has improved, Woodside will keep all business decisions under review," said the company.
Woodside said it does not have any direct commercial arrangements with any military-connected organisations.
Woodside added it will continue to work with industry partners and stakeholders to foster a business environment that respects human rights and supports progress towards openness and democracy in Myanmar.
Still, it appears the military has every expectation of emerging from the turmoil since the coup with some version of a victory and power firmly in their grasp.
Should this be the case, expect Chinese energy companies to step into the void left by Western players, such as Woodside.
Woodside, along with partners Shell and Myanmar Petroleum Exploration & Production are drilling a commitment exploration hole on Block A-7, where they made the Dhana Hlaing non-commercial gas find in 2018. Two other probes were also planned to be drilled on blocks AD-1 and AD-8, which Woodside and China National Petroleum Corporation (CNPC) hold on equal terms.
Woodside has one of the largest offshore petroleum acreage holdings in Myanmar. Since 2015, the company has completed three drilling programmes, making gas discoveries in each campaign. In 2018, the Australian-listed company drilled three wells, which included a successful appraisal of the Shwe Yee Htun field in Block A-6 and a gas discovery at Aung Siddhi-1 in Block AD-1.
Following successful completion of the Shwe Yee Htun-2 appraisal well, and agreement with the Myanmar government in late 2019, Woodside and France's Total are progressing development planning for Block A-6.
Recommended for you

Myanmar energy ties are flying under the ESG radar