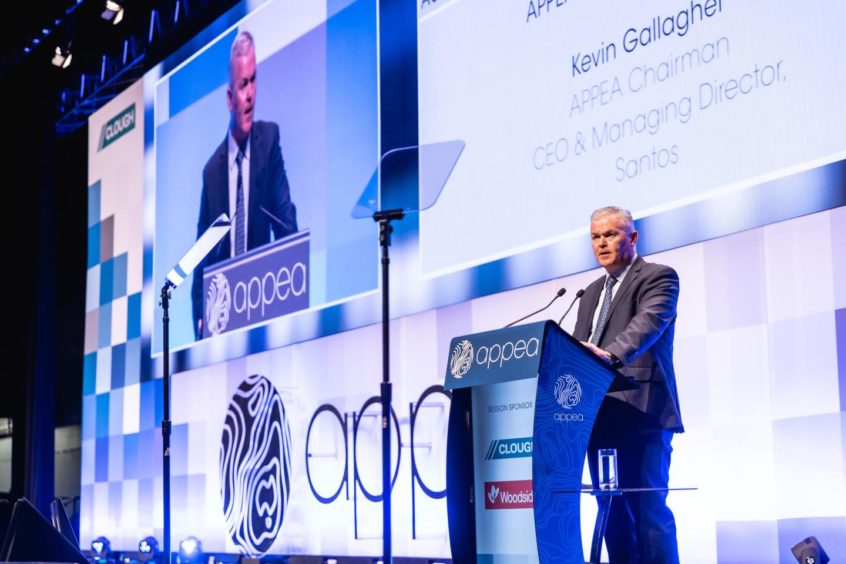 Santos chief executive Kevin Gallagher warned oil and gas industry leaders that achieving net zero emissions will be crucial for the natural gas industry to avoid coal's fate of being shunned by equity investors and lenders.
Gallagher warned delegates at the Australian Petroleum Production & Exploration Association (APPEA) conference yesterday that if access to capital becomes even more restricted then energy supply security and prices will increasingly be controlled by Opec producers, Russia and Qatar. However, Australia's competitive advantage in carbon storage could help it unlock its vast oil and gas resources as the world decarbonises.
"Australia needs large-scale carbon capture and storage (CCS) projects to make development of our oil and gas resources viable for investors, financiers and customers so that the wealth of these resources can be unlocked for the nation," Gallagher told the conference.
"Converting gas into hydrogen also offers the fastest, lowest-cost pathway to a hydrogen economy and, combined with CCS, could put Australia at the forefront of this new industry while the technology for renewable hydrogen evolves and the costs come down," he added.
"Summing up, to suggestions that Australia can become a clean energy superpower I would add this observation. Australia can become a carbon storage superpower based on our vast tracts of pastoral and cropping land, and our depleted oil and gas reservoirs," said Gallagher.
"At this year's APPEA conference, I urge everyone to therefore consider decarbonisation not simplistically as a threat – but as an opportunity to establish a new, large-scale industry producing carbon offsets that will be in heavy demand from emitting countries that lack Australia's competitive advantages in carbon storage," he said.
"Decarbonisation, through technologies like carbon capture and storage, and hydrogen production using natural gas, is critical," said Gallagher.
"Currently, hydrogen is the only obvious pathway to eliminating Scope 1, 2 and 3 emissions associated with gas production and consumption," he added.
"But there are also opportunities to staple carbon credits to LNG cargoes," he said.
"The timing of a zero-emissions energy transformation will be driven by how quickly our customers evolve. We will need to evolve with them as they continue to demand more carbon neutral LNG cargoes and zero-emissions fuels such as hydrogen," added Gallagher.
"And, providing domestic energy security. Because if the energy transition is not managed in an orderly fashion, it will cost manufacturing jobs, push energy prices up and increase reliance on imports," said Gallagher.
Without decarbonisation, however, the window of opportunity for developing Australia's oil and gas resources is rapidly closing, he warned.
Decarbonisation is a new industry opportunity for Australia – through carbon capture and storage, biological sequestration in soil and vegetation, and development of a new hydrogen industry, he said.
"Just as Japan and Korea have counted on Australia to supply the energy resources to feed their economies over the last half century, they and other countries can look to Australia to help meet their emissions reduction targets," Gallagher told the conference.
"This is because they don't have the land we have for biological carbon sequestration or the geology for carbon capture and storage, known as CCS," he said.
CCS could not only reduce Australia's emissions.
"It could also open up a new export industry for Australia – building on our existing trade and investment in LNG with future trade and investment in carbon credits and clean fuels such as hydrogen and carbon-neutral LNG," said Gallagher.
Recommended for you

Aberdeen in line for jobs boost as Spirit unveils plans to repurpose gas fields