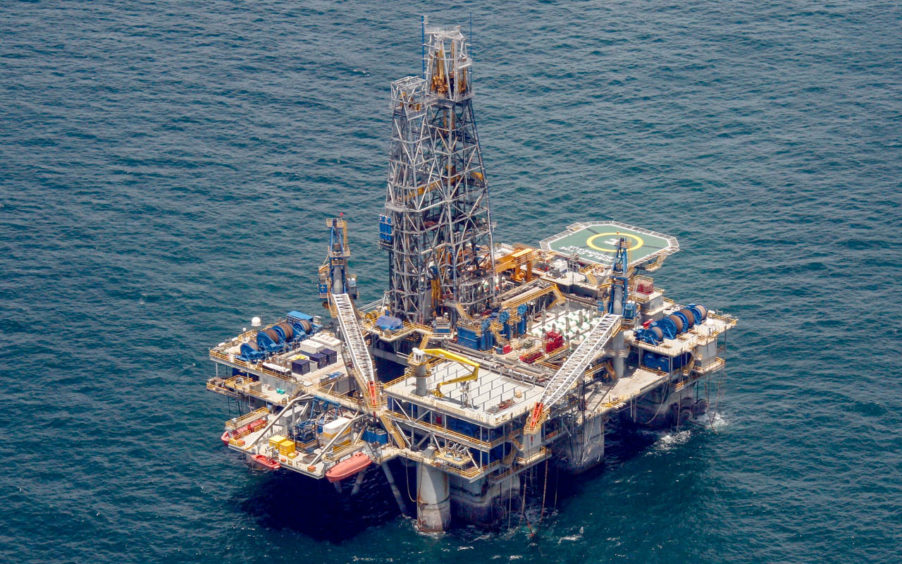 A Chinese ship has been meddling with Harbour Energy's ongoing drilling campaign at its Tuna block in the Natuna Sea offshore Indonesia. Significantly, the appraisal drilling is funded by Russia's state-backed Zarubezhneft and the incident underscores the fact that Moscow's energy interests in the South China Sea are increasingly being threatened by China.
In May, the Russian company acquired a 50% share in the Tuna block that is being appraised, and is operated by Premier Oil, now a Harbour Company. As part of its farm-in deal, the Russian company will carry Premier Oil for its share of the two-well campaign that started on 3 July 2021. The Noble Drilling deep-water Noble Clyde Boudreaux is on a two-well contract expected to last 120 days at the Tuna block.
Shortly after drilling operations started, the Chinese Coast Guard vessel Haijing 5202 was observed in the vicinity of Harbour Energy's drilling campaign at the Tuna production-sharing contract (PSC) in the Natuna Sea, Westwood Global Energy said in its latest report.
"The Haijing 5202 was reportedly about three miles from the drilling location. Indonesian authorities responded by deploying a navy corvette KRI John Lie (385) to the provocation," said Westwood.
Despite the incident, industry sources told Energy Voice that the drilling operations remain on schedule and are going ahead as planned. So far, there have been no disruptions to upstream operations in the Tuna PSC.
In recent years, Vietnam, Philippines, and Malaysia, have all come under pressure to end joint development projects with foreign energy companies operating in areas of the South China Sea claimed by Beijing.
Harbour's drilling has attracted the attention of Beijing as the Tuna discovery sits in an area also claimed by China through its sweeping claim to most of the South China Sea within its U-shaped 'nine-dash line', which is not recognised by its neighbours or internationally by the United Nations Convention on the Law of the Sea. The Tuna PSC lies about 10 nautical miles from the Indonesia-Vietnam maritime border.
"Beijing has increasingly used China Coast Guard (CCG) vessels to harass survey ships and oil rigs operating in the exclusive economic zones (EEZs) of the coastal states, presumably to pressure Southeast Asian governments into negotiating joint development deals with Chinese energy companies," Ian Storey, a senior fellow and Asian security expert, at the ISEAS Yusof Ishak Institute in Singapore, told Energy Voice.
Recurring pattern
"This fits the pattern of how the Chinese would show force at Malaysian and Vietnamese oil and gas work in the South China Sea. Usually, these Chinese vessels will keep a safe distance, but prominently visible, simply to demonstrate political displeasure at the oil and gas activities," Collin Koh Swee Lean, research fellow at Singapore's S. Rajaratnam School of International Studies, told Energy Voice.
"It's believed that Beijing expected such show of presence by the Chinese Coast Guard will add pressure on the concerned foreign government to cease those projects, by implicitly threatening a scenario of obstructing those activities where necessary. Even if not on the governments, Beijing would also have expected such incessant presence to give the concerned oil and gas companies cold feet, forcing them to withdraw from the projects, added Koh.
Jakarta maintains there is no maritime dispute with Beijing in the South China Sea. A 2016 international arbitration court ruling in the Hague, that said the majority of China's maritime claims in the South China Sea had no legal basis or validity, reinforces Indonesia's position.
Beijing will keep harassing oil and gas activities in South China Sea
Tough stance
"Over the past several years, Indonesia has pushed back against Chinese illegal fishing in its exclusive economic zone (EEZ) by publicly rejecting Beijing's claims within the nine-dash line and beefing up its military presence around the Natuna Islands. If the Chinese coast guard starts interfering with drilling operations in the Tuna Block, Jakarta has a range of options at its disposal, from issuing diplomatic protests to deploying its own maritime law enforcement vessels and warships to protect its economic interests. I think we are likely to see a tougher response from Indonesia than Malaysia in its maritime disputes with China," Storey, the Singapore-based Asian security expert, told Energy Voice.
Zarubezhneft to create new 'gas cluster' in Southeast Asia after asset deals
Moscow's energy interests threatened
This latest incident is another signal that "despite deepening ties between Russia and China, Moscow's energy interests in the South China Sea are increasingly being threatened by China as it seeks to assert its jurisdictional claims within its nine-dash line," said Storey.
Last year, Chinese pressure forced Rosneft to cancel drilling operations in Block 06-01 offshore Vietnam. Prior to that, the Chinese Coast Guard has increasingly harassed Rosneft's operations off Vietnam.
But "as Rosneft is Russia's largest single trade partner with China, and increasingly dependent on the Chinese market, due to Western economic sanctions, it cannot afford to offend Beijing," added Storey. In May 2021, therefore, Rosneft agreed to sell its shares in Block 06-01 and 05.3/11 offshore Vietnam to Zarubezhneft.
Zarubezhneft is hoping to develop a cluster of gas fields offshore Vietnam near to the Indonesian border, including the Tuna Block in Indonesian waters, together as a cluster hub. Presumably, Beijing will be less than impressed with this plan, which so far does not involve any Chinese energy companies.
Beijing rattles oil companies in South China Sea off Vietnam
Two successful exploration wells have been drilled at Tuna, which has estimated reserves of 100 million barrels of oil equivalent and lies close to the maritime border with Vietnam.