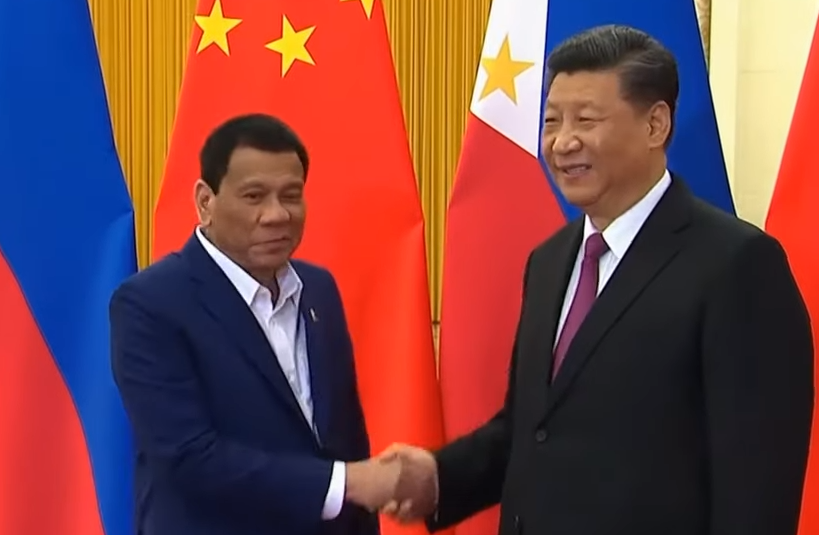 The government of the Philippines is eyeing a potentially large gas discovery as UK company Forum Energy prepares to drill in the disputed waters of the South China Sea. But geologists remain skeptical about the potential and any unilateral drilling will likely draw Beijing's ire.
Forum Energy is preparing to drill at the Sampaguita gas field offshore the Philippines and the Southeast Asian nation's government is hoping appraisal drilling will prove up a significant discovery. However, any drilling in the maritime area, which is also claimed by China, without Chinese involvement, is likely to stoke Beijing's fury.
Due to the maritime dispute with China, a moratorium on oil and gas exploration around the Recto Bank, home to Sampaguita, since December 2015, has stalled any progress in Forum's Service Contract 72 (SC 72). But in October 2020, the Philippines government announced it was lifting the ban.
As a result, Forum Energy is seeking a jack-up rig to carry out a two-well appraisal campaign in water depths between 80-90 meters in SC 72 in the Palawan basin starting in March 2022, reported Westwood Global Energy. Expressions of interest from rig providers were due by 3 September.
Geopolitical Tensions
Still, geopolitical tensions could scupper any drilling plans. China will almost certainly interfere with any unilateral drilling operations around the Recto Bank, also known as Reed Bank. Indeed, it may prove challenging to find a rig provider willing to bear the risk of getting caught in the middle of a potentially messy geopolitical situation.
"Under Philippines President Rodrigo Duterte, both countries have warmed up to the idea of joint development of oil and gas resources in the South China Sea and have an informal bilateral arrangement in place specifically to address this issue. Last October, PXP Energy (which has a controlling interest in Forum Energy) and state-owned China National Offshore Oil Corp (CNOOC) were also reportedly in talks for a possible partnership, but a formal announcement of a joint venture is yet to come," Aditi Mittal, Asia analyst at strategic risk intelligence company Verisk Maplecroft, told Energy Voice.
There is no confirmation that CNOOC or any other Chinese partner will be involved at Sampaguita. Moreover, with presidential elections looming it may prove unpopular for the incumbent administration to allow Chinese involvement in oil and gas activities within the Philippines' Exclusive Economic Zone (EEZ). The Permanent Court of Arbitration in The Hague has ruled that Recto Bank is within the Philippines's EEZ.
"Considering the recent Chinese assertiveness in the South China Sea, the dispute is likely to become a hot button issue in the upcoming presidential election in Philippines, due May 2022, derailing prospects of drilling in Recto Bank, at least within a bilateral framework," added Mittal.
If "Manila decides to proceed unilaterally with drilling, we can expect verbal reprisals, and potential trade and non-trade barriers from Beijing. Direct disruption to drilling operations from the Chinese coast guard and maritime militia is also likely," warned Mittal.
The Chinese coast guard interfered with drilling operations in the Natuna Sea offshore Indonesia in August, underscoring China's aggressive tactics in the South China Sea, where it claims historic rights. China has also repeatedly interfered with drilling operations offshore Malaysia and Vietnam in recent years as it seeks to assert its claims to most of the South China Sea.
Beijing interferes with Natuna drilling offshore Indonesia in South China Sea
"Should this occur, we would expect Manila to increase joint maritime patrols with the US to safeguard its interests in the South China Sea. Duterte would also likely indulge in an overt show of strength," said Mittal.
Therefore "rig providers keen on Recto Bank thus face high uncertainty in China-Philippines's relations, especially in the run-up to the presidential election," said Mittal.
"Duterte is most likely to come back as vice president. If he returns with a president who shares a similarly conciliatory approach towards China, drilling in a bilateral setup would still be possible. But if a political opponent to Duterte becomes a president, the victory would likely be on an anti-China platform," added Mittal.
The Next Malampaya?
Putting aside the geopolitics, some members of the Philippines government have high hopes that Sampaguita will be the "next Malampaya" referring to the country's flagship gas field, formerly operated by Shell, and which is now waning, threatening the country's energy security.
"There is no question the development of the Sampaguita gas discovery in Recto Bank is vital to our long-term energy security," house deputy speaker Johnny Pimentel told local media last October.
"There's definitely a lot of gas in Sampaguita, possible more than Malampaya. The developers just need to drill a few more wells to figure out the best way to get the gas out," he said.
However, this seems like wishful thinking.
Bleak outlook for Philippines upstream as Malampaya disappoints
Southeast Asia-focused geologists that Energy Voice spoke with were doubtful that Sampaguita holds more gas than Malampaya. Indeed, they said they would be surprised if commercial quantities of gas are found.
Exploration began in the area in 1970, and in 1976, gas was discovered in the Sampaguita structure following the drilling of a well. However, two subsequent appraisal wells were dry, suggesting either, or a combination, of the following: firstly, the gas-bearing sandstone reservoirs in Sampaguita-1 are not laterally continuous or widespread; secondly, the Sampaguita-2 and Sampaguita-3 wells are located in a completely separate structure from Sampaguita-1; and thirdly, the gas accumulation itself is small in the first place. Any of these cases somehow limits the areal extent of the gas accumulation found in Sampaguita-1, noted one geologist.
Moreover, the gas-bearing sandstone reservoirs found in Sampaguita-1 are relatively thin. These will need to thicken substantially away from the Sampaguita-1 well location by at least five times and be 100% gas-filled, to have any chance of a commercial accumulation. The geological probability of this happening is quite low, added the geologist.
In addition, the quality of the 3D seismic data covering the prospect and its structural and stratigraphic interpretation are at best average. Unless the developers have done something new and sophisticated with the seismic data, such as applying state-of-the-art processing techniques, over the past five years or so, then there will be a lot of guess work to the most likely structure and stratigraphy of the area, said the geologist. Energy Voice reached out to PXP Energy, which controls Forum Energy, for comment regarding any updated seismic work, but failed to receive a response.
Still, the geologist hopes the developers do find something new and big by serendipity in their appraisal drilling.
Following seismic surveys in 2011, a report by Weatherford Petroleum Consultants in 2012 signalled that Sampaguita held contingent resources of 2.6 trillion cubic feet (cf) of gas in place, according to PXP Energy. After applying a 50% risk factor that is indicated by Weatherford, the estimate is cut to 1.3 trillion cf. This is much less than half of Malampaya's reserves.
Moreover, any potential commercial discovery at Sampaguita would need to be connected by subsea pipeline to Malampaya and then shipped to shore via an existing pipeline.
However, another geologist noted that the shallow waters around Reed Bank are separated by deep water from Malampaya and Palawan. Flow rates and pressures are low, so any development would be very expensive and difficult, warned the geologist.
Clearly, aside from geopolitics, there are plenty of technical and commercial hurdles to overcome, should a large gas accumulation be proved at Sampaguita.
The Recto bank concession of SC 72 is located in the West Philippine Sea, also known as the South China Sea, west of Palawan Island and southwest of the Malampaya gas field.
PXP Energy has a 67.19% controlling interest in Forum Energy Plc with 48.76% held directly and 18.43% held indirectly through FEC Resources, Inc., a 54.99%-owned subsidiary. Forum Energy is a UK incorporated upstream oil and gas company with a focus on the Philippines. Its principal asset is a 70% interest in SC 72 Reed Bank offshore west Palawan, which contains the Sampaguita gas discovery. The service contract is currently in the second sub-phase of the exploration period which involves the drilling of two wells.
Following the lifting of the drilling ban, perhaps the developers are just going through the motions of preparing to drill to show the Philippines Department of Energy that they are serious about proceeding with the project. Geopolitical issues, coupled with domestic politics in the run up to presidential elections, as well as difficulties finding a rig provider that is willing to accept the geopolitical risks, seem likely to scupper any immediate drilling plans. This could suit Forum Energy and enable them to keep the rights to SC 72 without doing anything for the next couple of years.