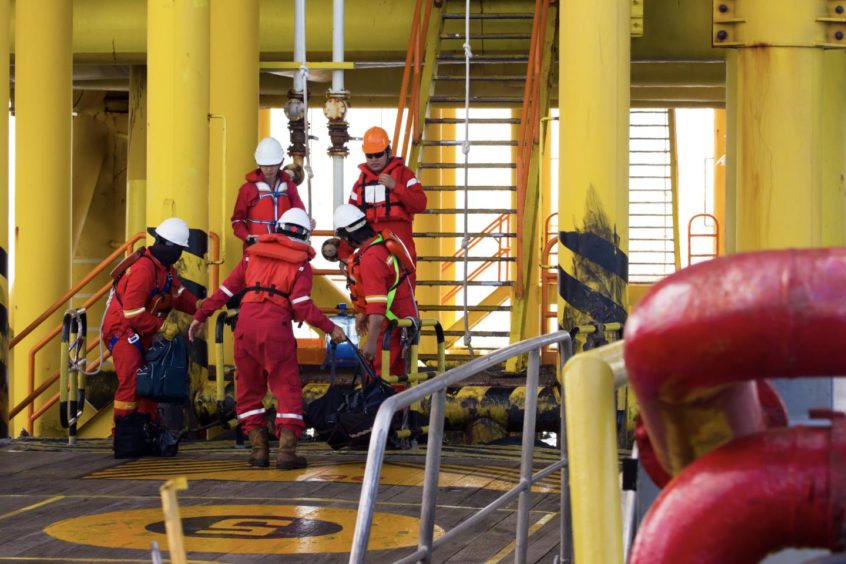 International oilfield service companies are facing significant challenges winning contracts in Southeast Asia as local suppliers are increasingly securing available work.
The value of contracts awarded in the region has fallen dramatically from levels seen
before the onset of the Covid-19 pandemic, with the number of deals also well down amid a fall in industry activity, Rystad Energy said in a recent report.
"The increased competitive environment in the oilfield services sector has forced contractors to alter their strategies, with many choosing to be more selective about which projects to pitch for as their resources get squeezed amid weaker revenues. An emerging attractive alternative to Southeast Asia is the Middle East, where key suppliers remain
able to secure a steady flow of contracts at relatively high values," reported Rystad.
"The medium-term outlook for service purchases varies significantly across different geographical regions, with most seeing no growth or decline when looking at the compound annual growth rate from 2019 out to 2025. Key markets with the most opportunity for growth are the Middle East, South America, and Australia, with modest growth of between 3% and 4% to the middle of the decade. The Southeast Asian market, however, is likely to see a decline of 2% by 2025 compared to 2019 levels," said the research and consulting firm.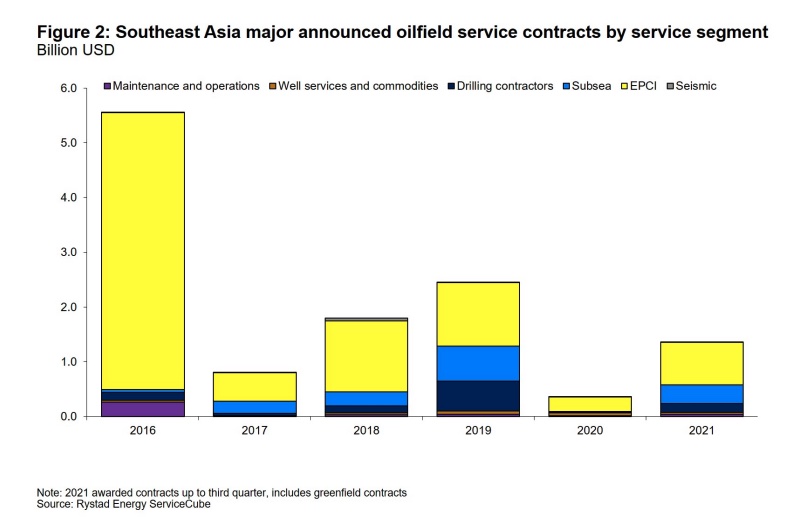 "The value of major contract awards in Southeast Asia rose significantly from 2017 to 2019 before slumping last year as oil and gas operators reined in spending amid the demand destruction caused by the Covid-19 pandemic. The value of total greenfield contracts awarded last year was $360 million, a 85% drop from 2019 and the lowest level seen in a decade. This year has witnessed a strong rebound, with the value of contracts in the first three quarter up threefold from the same period last year, although they are unlikely to get near 2019 levels," found Rystad.
"Regional suppliers have taken almost two-thirds of awarded contracts in the first nine months of this year, with this growth likely spurred by a drive to protect national interests in the region. The emergence of domestic players is further assisted by government policies, with emphasis on local content as well as growing local expertise and technical knowhow," said Rystad.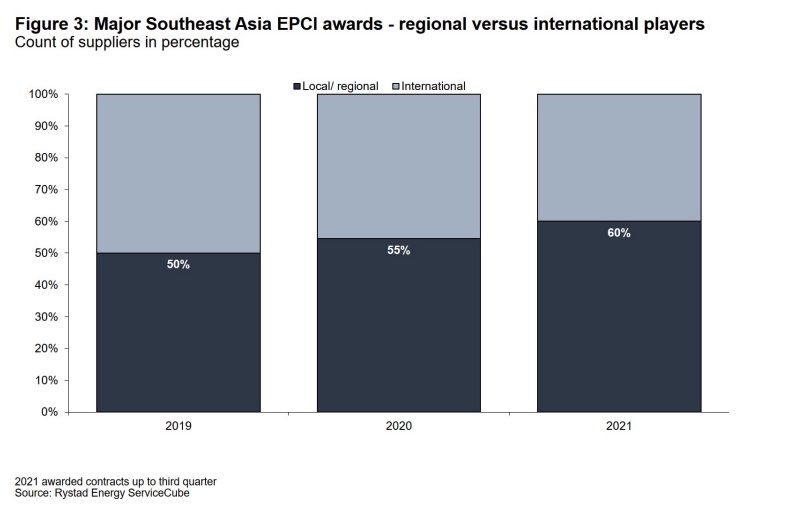 "Despite the increased challenges, opportunities remain for well-established international players to land contracts in Southeast Asia, especially within complex projects requiring a high degree of specialisation. One such example is the selection of TechnipFMC to provide EPCI services for the subsea production system and subsea umbilical, riser, and flowline scope for the Petronas-operated Limbayong development off Malaysia. This high-profile project has already been hit with delays previously and looks set to be delayed further as Petronas is retendering for the project's floating production, storage and offloading (FPSO) unit. This is a setback for local contractors Yinson, MISC, Sabah International Petroleum (SIP) and Bumi Armada that were vying for the prize," reckons Rystad.
The number of contracts awarded in Southeast Asia has dropped by 47% in the first three quarter of this year compared to the same period of 2019, data from Rystad showed.
Significantly, there has been fierce competition among service providers in the region to secure the limited number of contracts on offer from both national oil companies (NOC) and exploration and production (E&P) players, said Rystad.
Recommended for you

Huge investment at Port of Cromarty Firth may swell to £330 million