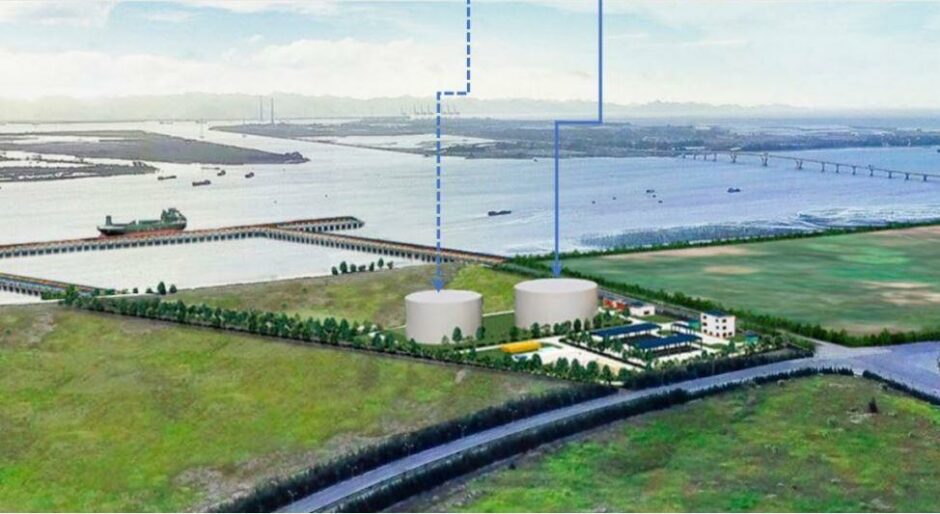 Japan Petroleum Exploration (Japex) has signed on to construct a liquefied natural gas (LNG) terminal in the north of Vietnam.
On December 28, 2021, Japex signed a share purchase agreement with Ho Chi Minh City-headquartered joint venture company Iteco and said it would "further proceed with the share acquisition procedures."
The project involves the construction of an LNG Terminal in the Nam Dinh Vu Industrial Park in Hai Phong City, in the north of Vietnam, as well as the procurement, storage, and supply of LNG.
The scheme, including the Northern Vietnam LNG Terminal, has already been approved by government as part of its gas industry development master plan.
Japex said the initial phase of development, would see construction of a 50,000 cubic metre LNG storage tank and associated jetty facilities capable of handling a throughput volume of up to 650,000 tonnes of LNG annually.
The company added that it was working to make a final investment decision (FID) on the project within the second half of this year.
An additional LNG storage tank of 30,000 cubic metres is planned for the latter half of the 2020s as an expansion development.
The facilities to be constructed in the project are planned to commence commercial operation in 2025.
In alignment with the project, Iteco is currently moving forward with discussions about LNG procurement as well as its offtake and distribution.
In September, Vietnam's Minister of Industry and Trade Nguyen Hong Dien said the country would begin importing its first LNG cargoes this year as part of a longer-term plan to maintain stable natural gas supply and meet rising demand for power.
"With the goal to start importing LNG in 2022, import demand will increase to about 5 million tonnes of LNG in 2025, 10 million tonnes by 2030 and 15 million tonnes by 2035," Dien said in a pre-recorded video address ahead of the Japan-hosted 10th LNG Producer-Consumer Conference on 5 October 2021.
The country largely relies on hydro, coal and oil to meet energy demand, but these fuel sources are showing signs of decline and Vietnam is now targeting more renewable energy and imports of LNG to boost energy security.
Recommended for you

First Gen to finish Philippines LNG import project early 2023