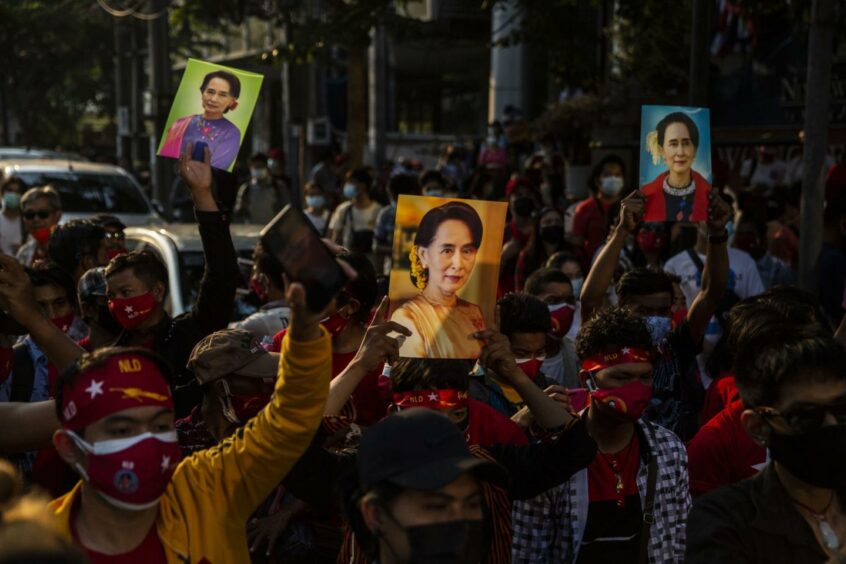 Malaysia's Petronas and Thailand's PTT Exploration & Production (PTTEP) have announced they will exit the Yetagun gas project offshore Myanmar as they rationalise their upstream portfolios. Neither company denounced the military-led coup in their exit statements.
In contrast, a Japanese consortium, which is a partner in the project, is also withdrawing, in part due to the deteriorating environment in the country following a military coup in February 2021.
The Yetagun gas field, located in the Andaman Sea, offshore Myanmar, in Blocks M12, M13 and M14, is one of three main gas fields that supply pipeline gas to Thailand, the other two being Yadana and Zawtika.
But Yetagun has been posting a steady decline in output since around 2013, which operator Petronas struggled to arrest or reverse. In April 2021, Petronas declared force majeure and halted output after the production rate fell below the technical threshold of the offshore gas processing plant, according to Petronas.
Petronas said on Friday that it was pulling out of Myanmar following a full review and was part of an "asset rationalisation strategy" that "fits with its growth ambitions amid the changing industry environment and accelerated energy transition."
Petronas has operated the Yetagun field since 2003 with a 40.9% interest on behalf of its partners. State-backed Myanma Oil and Gas Enterprise (MOGE) holds a 20.5% stake, Nippon Oil Exploration has a 19.3% share and PTTEP (BKK:PTTEP) holds the remaining 19.3%.
PTTEP also said Friday that it will exit Yetagun "to refocus on projects that support the energy security for the country."
The Thai company said that its share of the project will be reallocated proportionately to the remaining shareholders with no commercial value, effective upon regulatory approval. Presumably, this will also apply to the other partners exiting, eventually leaving MOGE with 100% interest in Yetagun.
However, PTTEP is not making a country exit and will still be involved in Myanmar's upstream oil and gas sector. In March, PTTEP confirmed it will take over operatorship of the giant Yadana gas field, after Chevron and TotalEnergies announced their exits in January.
TotalEnergies (LSE:TTE) and Chevron (NYSE:CVX) said they were exiting Myanmar due to the worsening situation in the Southeast Asian country, particularly concerning human rights abuses by the junta, since the military-led coup.
Nippon Oil Exploration, a Japanese consortium, led by the government in Japan and JX Nippon Oil & Gas Exploration, also said on Monday that they will exit Yetagun. "We are very concerned about the situation in the country after the coup which occurred in February 2021," JX Nippon said. "We have decided to withdraw after discussions taking into consideration the country's current situation including the solution of social issues, and project economics based on the technical evaluation of Yetagun gas fields."
"We would like to proceed with this withdrawal in an orderly manner, in accordance with the relevant contracts. We sincerely hope for the country's serious situation to be resolved as soon as possible," added JX Nippon.
Recommended for you

PTTEP officially takes reins at Erawan and Bongkot offshore Thailand