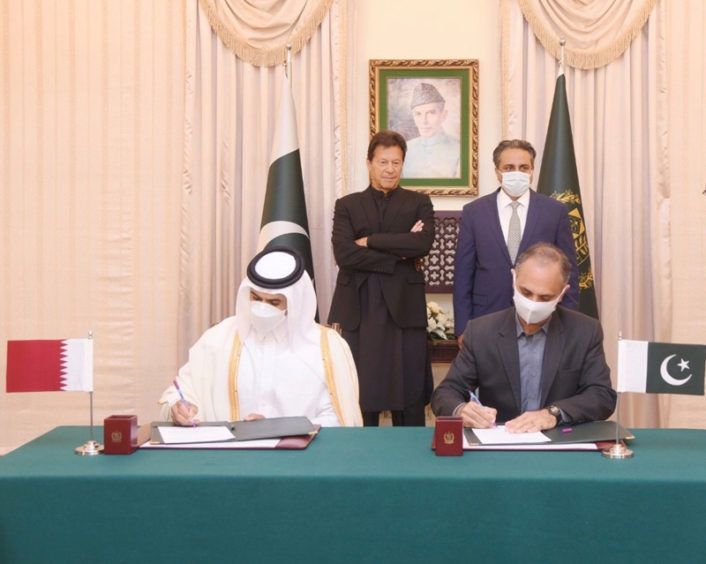 Qatar Petroleum (QP) has signed a deal to supply up to 3 million tonnes per year of LNG to Pakistan.
The deal will run for 10 years, QP said, starting in 2022 and running to the end of 2031. The company signed the agreement with Pakistan State Oil Company (PSO).
The companies signed the sale and purchase agreement (SPA) in Islamabad. QP president and CEO Saad Sherida Al-Kaabi and PSO managing director and CEO Syed Taha struck the deal. Also attending the ceremony was Pakistani Prime Minister Imran Khan and Qatari ambassador to Pakistan Sheikh Saoud bin Abdulrahman Al Thani.
Al-Kaabi welcomed the deal, saying QP would "continue our contributions towards meeting Pakistan's increasing energy demand", describing the market as strategically important.
"This agreement further extends Qatar's long standing LNG supply relationship with Pakistan and highlights our commitment to meeting Pakistan's LNG requirements. We are confident that the exceptional reliability of our LNG supplies will provide PSO with the required flexibility and supply security to fuel Pakistan's impressive growth."
Pakistan has the potential to be "one of the world's fastest growing LNG markets", Al-Kaabi said. The country has two import terminals, both using floating storage and regasification units (FSRUs).
Rising demand
The country's special assistant on petroleum Nadeem Babar said Pakistan would engage with Qatar further on petrochemical supplies.
The official said the new contract had been reached at lower prices and would save Pakistan $3 billion over 10 years, according to Dispatch News Desk.
Qatargas signed a 3.75mn tpy deal with PSO in 2016. This was to start that year and run for 15 years.
Pakistan began importing LNG in 2015. Demand tends to peak in summer months as temperatures increase.
The International Islamic Trade Finance Corp. (ITFC) agreed to provide $1.1 billion in financing to Pakistani this week. The cash will go to helping cover imports of "essential commodities such as crude oil, refined petroleum products, LNG and urea", it said.
LNG spot prices fell in 2020 amid lower demand. They then spiked in January this year as a combination of factors triggered a supply crunch. This price spike – reaching close to $40 per mmBtu – helps make the case for longer-term contracts.
QP also recently signed a deal with Vitol to supply 1.25mn tpy of LNG to Bangladesh.
Recommended for you

Pakistan considers gas import deal with countries including Russia