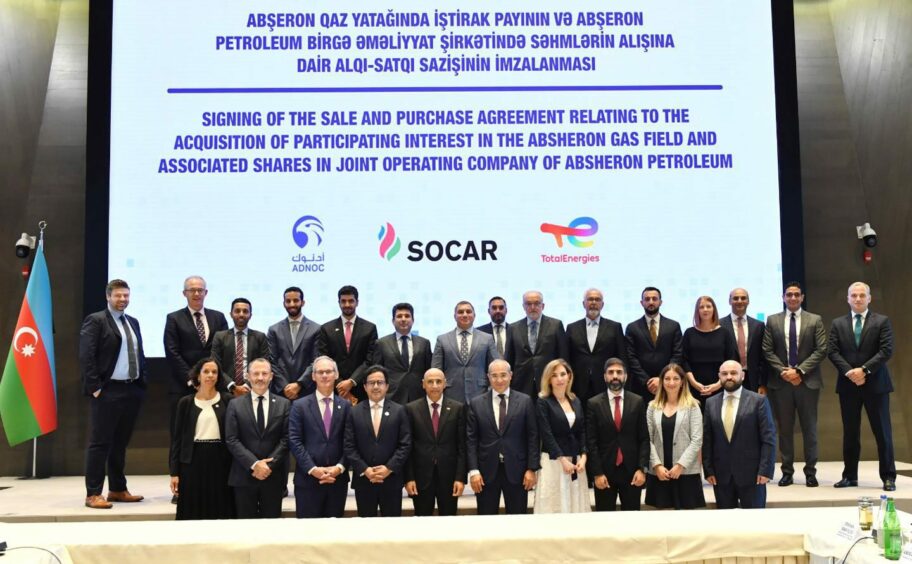 The biggest oil producer in the United Arab Emirates is buying a stake in a natural gas field in Azerbaijan, marking the company's first major international purchase of upstream hydrocarbon assets.
Abu Dhabi National Oil Co. agreed to buy a 30% equity stake in the Absheron gas field in the Caspian Sea, the government-owned firm said in a statement.
Azerbaijan's state oil company Socar and its French partner TotalEnergies will each sell a 15% share of the project to Adnoc in the deal. The parties didn't disclose financial terms.
Government and private oil producers have been increasingly developing gas assets as they look to meet growing global demand for energy and consumer products with a fuel that burns more cleanly than crude. Gas, which still emits carbon gas that contributes to global warming, can be burnt in power plants and also used in the chemical processes that create plastics and other materials that go into mobile phones, computers and auto parts.
"Adnoc's investment into the Caspian region aims to create a substantial growth position as it enters the international gas market," the statement said. "The partnership will enable Adnoc to build a major footprint in a region with prolific natural resources and significant growth potential, facilitating a route into attractive international growth markets for gas in Europe and Central Asia."
Absheron is estimated to hold 300 billion cubic meters of gas, but the reserves are probably much bigger, according to Azerbaijain's President Ilham Aliyev.
As Adnoc spends billions to boost oil and gas production capacity at home, the Azerbaijan deal is its first foray into production abroad. The company has also made an offer, together with BP, to buy into an Israeli gas project and has bought stakes in European chemical and energy companies from another Abu Dhabi government firm, Mubadala Investments Co.
The Absheron gas and condensate field started production last month. Total and Socar held equal 50% stakes in the project prior to the current transaction, which still needs regulatory approvals. The two will remain partners with 35% holdings each.
The UAE is hosting this year's UN climate conference, COP28, which aims to focus on funding for efforts to reduce emissions and limit global warming. The country has been criticized for touting its clean energy plans at the same time as it goes ahead with efforts to boost crude production capacity by about a quarter and for naming Adnoc's CEO Sultan Al Jaber as head of the summit.
Al Jaber has called for phasing down the use of unabated fossil fuels, meaning those without technology to capture carbon emissions, while stressing that oil and gas will remain part of the energy mix for years to come. The UAE has recognized that economies will move beyond the use of hydrocarbons and is also working to diversify its income sources away from oil sales and to develop new industries though government officials haven't said when they think oil and gas use will stop.
The UAE is already working on solar energy projects in Azerbaijan with state-run renewable energy producer Masdar, of which Al Jaber is chairman and former CEO.
Socar and Adnoc also agreed to look at opportunities to work together on additional upstream projects in Abu Dhabi, Azerbaijan and beyond and to evaluate cooperation in renewable energy and other low-carbon projects.
Recommended for you

Aberdeen firm makes finals of ADNOC decarbonisation challenge