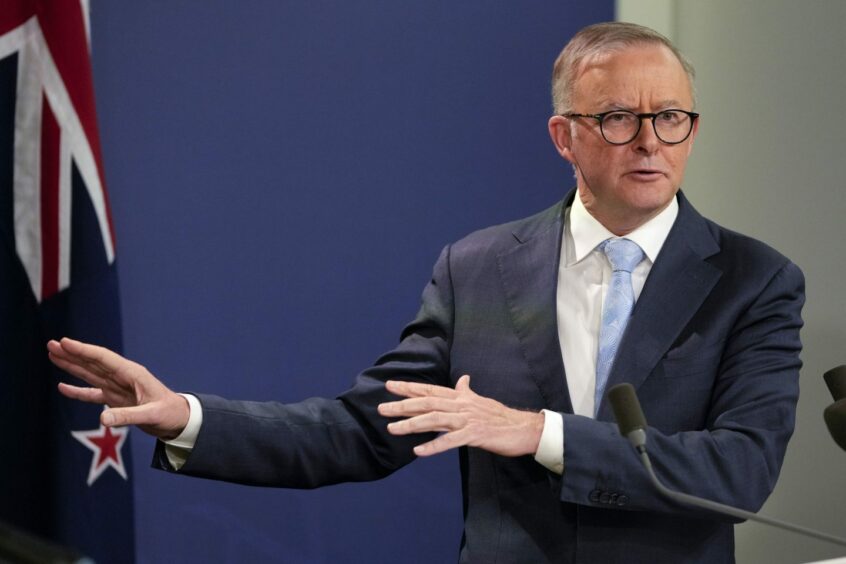 Australia's Labor government is planning to seize control of domestic gas prices when it introduces extraordinary new legislation to parliament on Thursday in what has been likened to a near nationalisation of gas markets.
Significantly, the move, designed to ease the cost-of-living crisis for Australian households and businesses, increases the risk of blackouts, as investment in exploration and production will fall, squeezing supplies further, argue gas producers and analysts.
"A consultation paper and exposure draft of legislation released late Friday reveals the government's intervention is far more extensive than it announced earlier in the day, with extraordinary new powers to control the market on both the east and west coast and damage investment confidence across the entire energy market," said Australia's main oil and gas industry lobby group, the Australian Petroleum Production & Exploration Association (APPEA).
"The measures include regulating gas prices permanently under its mandatory code of conduct, despite the government painting its $12/GJ (US$8/GJ) price cap as a temporary, short-term measure," noted APPEA.
"The Draft Bill would confer unprecedented powers to intervene in the gas market," warned the group.
Reckless Free Market Intervention
ExxonMobil (NYSE:XOM), which supplies around 20% of Australia's east coast market – where the government is determined to bring down prices – criticised the proposed legislation branding it "reckless free market intervention" and adding that the "rushed and ill-considered" policy would risk gas shortages and blackouts.
Woodside Energy (ASX:WDS) , the US major's partner in the Gippsland Basin venture in eastern Australia, said Tuesday that the intervention threatens power supply, investment and jobs.
"A policy of such significance, proposed without any meaningful consultation with industry, creates an environment of uncertainty that will result in investment activity dropping across energy markets. This will make solving the underlying structural problems in the energy market harder, not easier," said Woodside.
"Woodside calls on the Federal Government to reconsider this unprecedented intervention and bring energy companies, retailers, manufacturers, and infrastructure owners together to properly engage on a solution," added the Australian LNG developer.
Woodside CEO Meg O'Neill expressed her concerns about Labor's proposal "the Prime Minister last Friday correctly acknowledged that Australia has not invested enough in its own energy security. And yet the unprecedented market intervention announced risks driving investment out of the system."
"That investment, including in natural gas, is crucial to support renewable energy sources as we strive to decarbonise without the lights going out," she warned.
"The policy will not address falling domestic gas supply and the increasingly critical role of gas in providing dispatchable power. These are the primary factors that are driving higher energy prices in the east coast gas market, rather than solely the impact of the tragic war in Ukraine," added O'Neill.
"We need to unlock gas supply now. For example, Woodside has been looking at options to increase supply, including through new LNG import terminals, exploration spending and further development on the east coast. Unfortunately, the proposed market intervention will make it very difficult for industry to economically invest to increase supply," she said.
Negative Impacts
In early December, Australian consultancy EnergyQuest released analysis showing gas price caps would lead to damaging economic consequences including higher prices after investment confidence was hit and future supply was reduced as investors went elsewhere.
The negative impacts included reducing exploration and development of gas resources, the economics of gas storage in the state of Victoria, and the viability of liquefied natural gas (LNG) imports on the east coast.
"The powers provided through the Bill are extraordinary, providing for the government to control the entirety of the market and intervene in an essentially unlimited way," warned Samantha McCulloch, head of APPEA, the oil and gas lobby group.
"Labor's lurch left on gas policy is government price-fixing gas forever, effectively, one step short of nationalising the gas sector," said Credit Suisse energy analyst Saul Kavonic.
"In the end, price fixing results in only one outcome: no gas being available at any price," Kavonic wrote in a report.
Gas supplies in 2023, which are largely already contracted, should be mostly unaffected, but Kavonic doubts "anyone is going to find alignment on price for 2024 supply, given expectations of an extended price cap, and uncertainty towards the reasonable price mechanism, as gas buyers prefer to wait for intervention rather than agree a price to secure supply.
Kavonic added that "the market will become more unstable, and buyers will have less security of supply, as they are forced to rely on spot supply more."
Moreover, "regulation will have to expand to address many unintended consequences of the policy, arising from limiting the price signals for storage and transport between states, gas traders and buyers, attempting to optimise the new policy, supply security risks being passed downstream, and contracting drying up," he warned.
"Regulatory capacity to manage this increased remit effectively is highly questionable, which could lead to rushed commercial and logistical challenges that result in a serious energy supply crisis within the next 24 months," added Kavonic.
Shell (LON:SHEL) has already reported that it is putting gas sales tenders for the next two years on hold due to the uncertainty, while Woodside noted that buyers were walking away from tenders for gas supply over 2024 and 2025.
Recommended for you

Australia's Santos reports $2.5bn profit surge from higher oil and gas prices