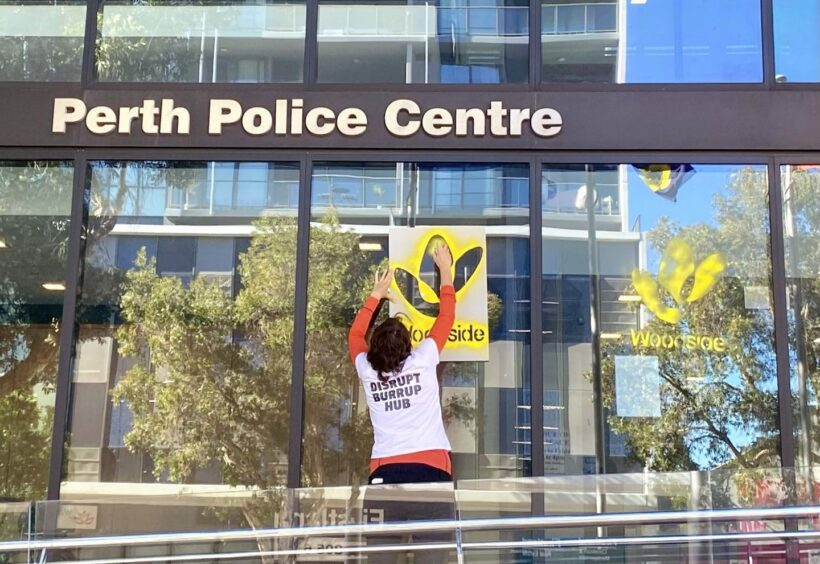 A magistrate has "commended" an environmental activist in Australia for spray painting a police station with the Woodside Energy logo.
Violet Coco spray painted the logo on the Perth Police Station four times in yellow paint on May 4. The police arrested her, holding her without bail.
Magistrate Matthew Walton voiced encouragement for the activist in a court hearing today, although saying she had gone too far. The court fined her A$200 for her actions.
"I encourage you to do it. You should be encouraged to do it in a lawful manner. It should be something held to be very precious to all of us. In this case you simply went too far," the magistrate said. People have strong views, he continued, saying a "fundamental tenet" of democracy was to protest.
"In a lot of regards you should be commended, however you've breached a law. You went too far on this occasion."
Coco said she was a survivor of the "authoritarian crackdown on environmental protest on the east coast". She had come to Western Australia "to sound the alarm and stand in solidarity with campaigners facing the same police state repression here".
Woodside "love to slap their logo on the prized cultural institutions in this state at the same time they spray their toxic emissions all over sacred First Nations rock art and our childrens' future. But the biggest sponsorship deal in this state is between Woodside and the WA government, who use the WA police as Woodside's personal protection service."
The protest singled out Woodside's Burrup Hub development, which covers Scarborough, Browse, the Pluto plant and others.
Activists have raised concerns about emissions at the site and the impact on Aboriginal rock art.
More in the offing
Demonstrators targeted Woodside's AGM last week. Two campaigners from the Disrupt Burrup Hub movement were arrested after setting off "stench gas" and flares. Police have charged them with aggravated burglary with intent to commit assault.
While the protesters were removed, the vote did show concerns from institutional investors in Woodside's plans. Only 65% of shareholders voted to re-appoint Ian McFarlane as a director, while the remuneration report gathered 79% of support. While the motions were still carried, this does highlight concerns.
Coco blocked a lane of the Sydney Harbour Bridge, in April 2022. She was arrested and sentenced to 15 months in prison. However, the sentence was thrown out on appeal because of "false information" from the police. They had claimed that an ambulance had been unable to access an emergency because of the blockage – a claim that they later dropped.
It seems more is likely to come. On her social media sites, Coco said the "next big actions" would take place at the APPEA conference, in Adelaide in mid-May.
Recommended for you

Minister offers APPEA "pathway to the future", while activists arrested